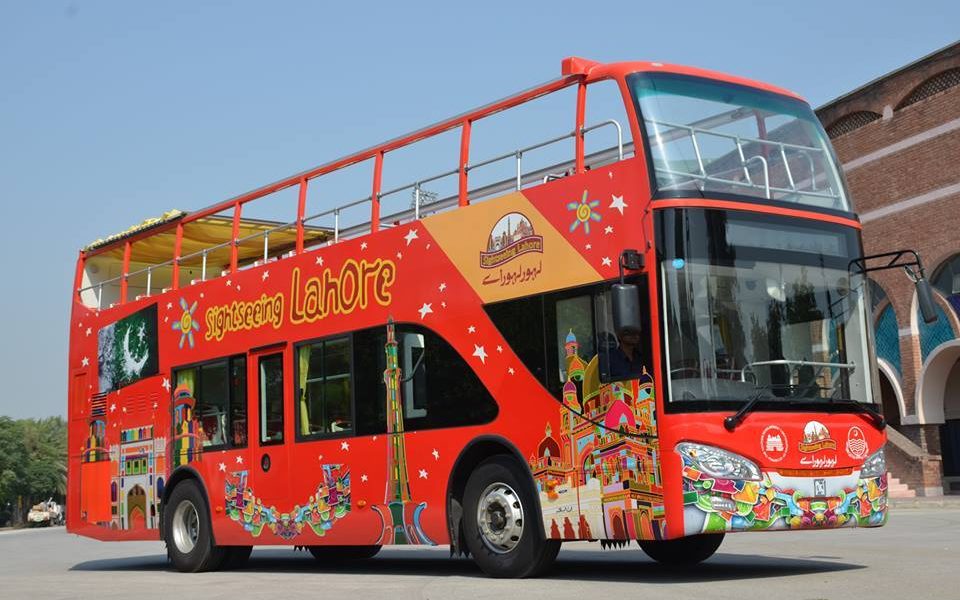 The country's first double-decker tourist buses will be introduced by the Tourism Development Corporation of Punjab (TDCP) in Lahore after 10th of Muharram this year, Dunya News reported on Saturday.
Initially, the TDCP has imported two open roof-top double-decker Volvo buses from China whereas three more buses will be imported in the second phase. Each bus can accommodate more than sixty passengers.
The colourfully painted buses have been inscribed with a slogan "Lahore Lahore Ay (Lahore is Lahore)" along with pictures of the key tourist attractions in the city.
The vehicles are equipped with a sound system to guide the tourists about the city's history and places of interest along the route.
The first two terminals, one outside the Punjab Stadium and the second one on the Fort Road near the new Lahore Food Street, are in completion phase.
Many foreign tourists stayed away from Pakistan because of the country s reputation as being a dangerous place but the security situation has gradually improved since Pakistan Army launched an offensive against local and foreign militant organisations last summer in North Waziristan tribal region near the Afghan border.

More than three thousand suspected terrorists have been killed in Operation Zarb-e-Azb so far, resulting in sharp decrease in terror attacks across the country.

World leaders have also acknowledged and lauded Pakistan s efforts for restoration of peace in the region.

Earlier on Thursday, United States (US) President Barack Obama admitted Pakistan's success in operation against terrorists.

Recently, many foreign tourists expressed willingess to visit Pakistan after Brandon Stanton, the street photographer behind the celebrated Humans of New York project, offered a fresh perspective on Pakistan during his tour from country s Gilgit-Baltistan region to the port city of Karachi in September.

<!-comments-button-->