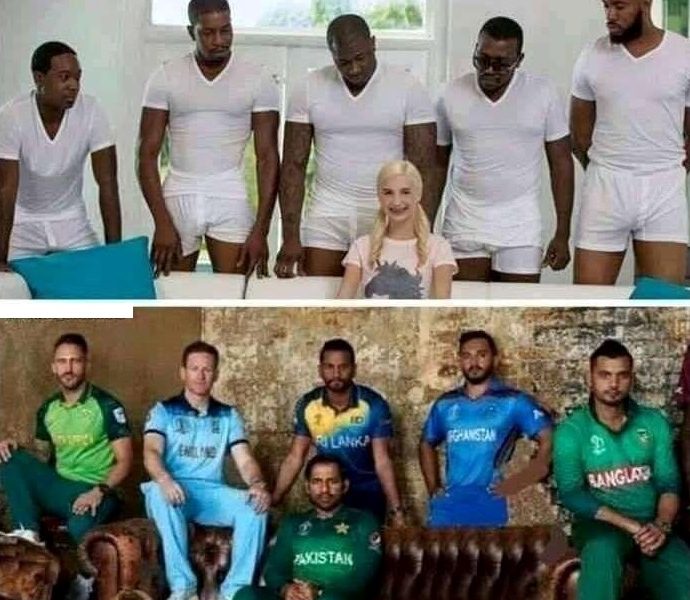 The 2nd match of the CWC19 witnessed a Gang Bang at Nottingham. Pakistani batsmen were pounded by tall West Indies bowlers.
"We're still warming up", said Sarfraz after playing three side matches, one T20I and 4 ODI matches against England, and one warm-up match game against Afghanistan.
"This is the ideal start for us. After all, we lost to West Indies in 92 World Cup as well. In fact, back then it was also our first match of the WC", Sarfraz Ahmed added on.
Changing room very quiet. Only noise coming from coach Mickey trying to tie rope to ceiling fan. He struggling. Shaheen Afridi ask if he need help. #PAKvWI #CWC19

— NOT Imam Ul Haq (@NephewImam) May 31, 2019
The PAKvWI match is a testament to our "Predictability in losing", said dejected-looking Mickey Arthur.
The other thing worth noting was the mastery in dealing with short-pitch bowling by Pakistani batsmen.
Group photo of Pakistani batsmen who know how to play the short ball

Gaddafi Stadium Gallery, 2019 pic.twitter.com/cPJPkZCD1H

— History of Pakistan (@OldPakHistory) May 31, 2019
Today, the Pakistan team showed the word "GangBang" can apply in the game of Cricket as well.
Well done!