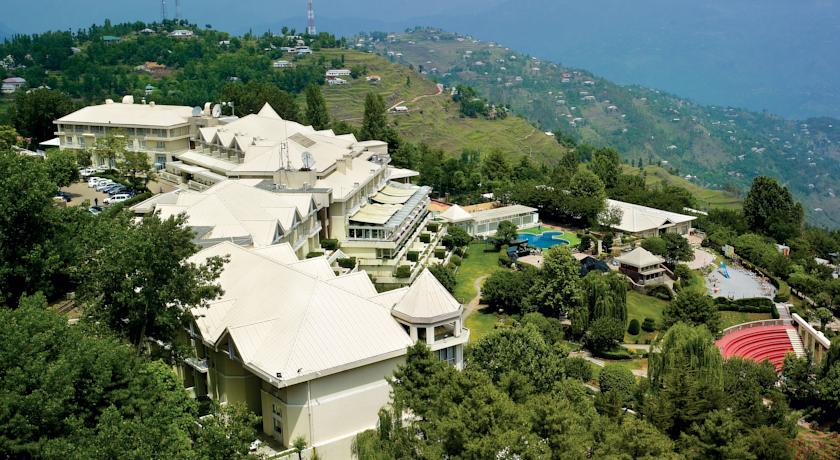 Finally our last day in Murree. We planned to have some fun at Sozo Park near Lower Topa. The park hosts several rides including water activities. I also visited the park in 2007 and it was very economical at Rs 100/- per person. Keeping the same value for money in mind, we decided to visit it and also invited my nephews and their friends.
We left at 11:15am and reached Sozo Park at 12:30am – courtesy of Murree's insane traffic due to which we traveled 7kms in 75 minutes only to find out that entry ticket has been increased by 3.5 times to Rs. 350/-.  Since there was no suitable activity for the eldest and youngest, we decided not to waste money and visit Pearl Continental Hotel Bhurban instead.
Bhurban is a small town and a hill station in Punjab. It is located approximately 13 kilometers from Murree city. Although the resort is known as Bhurban, Bhurban is, in fact, a name taken from a nearby forest. Bhurban is situated in between Murree and Kashmir Road at a height of about 6000 feet. It has recently been made accessible by the dual Islamabad-Murree Expressway, making it a 45-minute drive from the federal capital of Pakistan. Besides scenic hiking trails, one can relax at the 5-star Pearl Continental Hotel (Wikipedia).
The security at the hotel was very strict since a lot of diplomats and politicians visit and stay here. We had to pass through several layers of screening. The entry in the hotel is restricted. Non-guest has to pay Rs. 500/- to enter the hotel. Good thing is that this amount can be utilized in restaurants and coffee shop.
Once inside, we roamed here and there to explore the lobby. Later on, we went to pool area. Hamza got out of control as he wanted to dive in the swimming pool. I managed him somehow. We then went to the park where Hamza had some rides. My father caught some butterflies and let Hamza hold them  (Of course he released them afterward). It was the totally new experience for him.
We came inside for lunch. There are two options to dine in Pearl Continental. First is Nadia buffet which is at Rs. 1,1150/- per head. The second one is Terrace Cafe which gives a wonderful view of the valley.  Keeping our low diet in perspective we opted for Terrace Cafe. We had to wait for an hour for our turn. We tried Fish n Chips, Club Sandwich, and Pizza. The food was very food. We left the hotel at 4:30pm and reached Murree by 6pm.
After taking some rest we went to Millennium Mall on Mall Road. The ladies then went to Barah market for shopping. I wander around with Hamza. He started playing with bricks. He even invented a new game of hitting smaller bricks with the larger one. We had dinner of boneless handi at Marhaba hotel. On our way back we hired "Chand Gari" (Literal meaning Moon Car) for Hamza. Its a small cart that is pushed by local teenagers to carry people who are too tired to walk. They usually charge very small amount for this service.
We settled in a hotel and got ready to watch the football WorldCup final in which Spain defeated Netherlands by 1-0.
It was indeed a busy and enjoyable day.