The need to maintain a strong, long and secretive password increases as technology begins to take root in all spheres of work life.
Though the hackers of today are notorious and mysterious enough to be entitled to a Dan Brown of their own, with the increase in use of technology, the need to protect your data from unwanted others have greatly increased. For this tech savvy era along with all its blessings brings with it its own kind of fraudsters and technological Ponzi's. Thus the need to maintain a strong and unusable password has never been higher.
Though a strong password is extremely important for your security yet strange as it may seem statistics show the people still tend to have a tendency for weak and short passwords and according to a California-based provider of security services and applications, SplashData, which compiles an annual list of the worst passwords used reveal, sequence keys, name of pets, places or even own birthdays remains the norm when it comes to keeping passwords.
For the previous four years alone 123456 retains its position as being the worst yet a widely used password.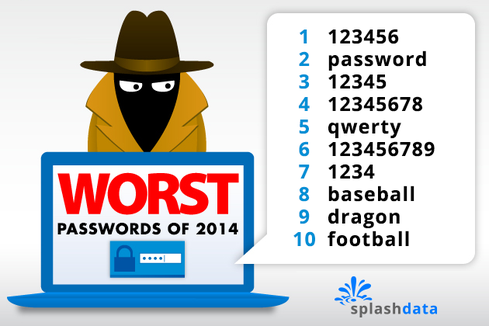 It's extremely important to maintain a strong password as it not only protects the users and their identities' from being stolen or accounts being hacked but also ensures their reputation remains sane. A password using random words and letters is more preferable than that of a favorite sports teams or birthdays.