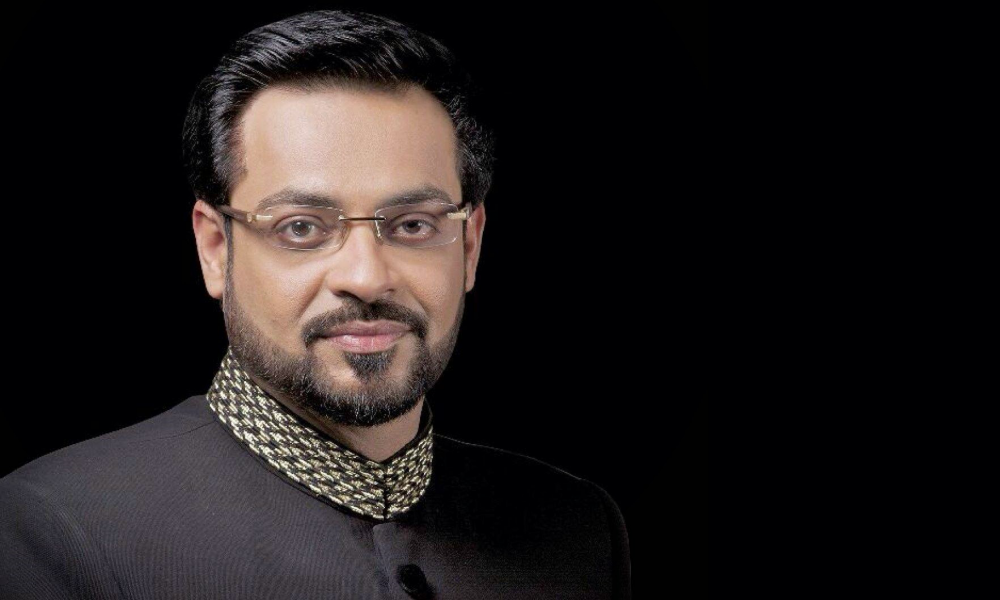 As Geo TV re-launches its program of Inaam Ghar, one marvels at this newly introduced concept of Santa Clausism in the deeply conservative Pakistani Muslim society.
Aamir Liaquat Husain's Inaam Ghar was the highest rated TV show in Pakistan. It attracted sponsor-ships and advertisements from successful companies throughout the country which were willing to pay top dollars for a slice of its viewers' attention and business. These advertisers saw the high ratings of Aamir Liaquat's program as crucial to boost their annual profits and sales.
Downplaying the commercial success of his shows, Aamir Liaquat insists that "it is not commercialization, it is not showbiz. It is real Islam and I am the religious icon of television" according to an AFP report.
Aamir Liaquat's show is no ordinary TV production. Last time the show was aired, it was set in a massive wedding hall at a Karachi hotel, bedecked with advertisements for a variety of products competing for space alongside pictures of camels and palm trees.
It was a variety show featuring Islamic quizzes, Quran recitations, cooking, religious songs, and lots of prizes and even Iftar dinners for over 500 guests, including hundreds of women and children.
Prizes given away at Geo's Amaan Ramzan show included consumer electronics, motorbikes, microwave ovens, washing machines and refrigerators.
But eyebrows were raised around the world when Aamir Liaquat gave away an abandoned baby to a grateful childless couple on live TV. It was arranged by an NGO which insists that it followed the law. Though critics termed it a "publicity stunt" to boost show ratings!
ARY TV, a competitor of Geo TV, responded to Inam Ghar show by launching it's own show which featured Junaid Jamshed, a celebrity rock star who  gave up his singing career and grew a long beard as a sign of religious piety.
Nevertheless Inam Ghar retained its top spot as the country's most popular show until Aamir Liaquat's surprise exit from Geo last year.
Nobody knows the reason for Aamir Liaquat's exit but it occurring in the wake of Hamid Mir attempted murder controversy raised many eyebrows, as to the reason for Aamir Liaquat's abrupt exit. The question was how someone with Aamir Liaquat's piety could abandon his organization at such a critical moment which nearly saw it banned.
Leaving aside Aamir Liaquat; Pakistan's rising middle class in recent years has helped spawn a mass media revolution in the country which is driving both consumer spending and advertising. Television ads capture 56% of total advertising revenue in Pakistan. TV ad revenue for 2011-12 added up to Rs. 21.6 billion (US $210 million), up 16% from the prior year, according to Dawn's advertising Aurora magazine.
Since 1990, Pakistan's middle class has expanded by 36.5% and India's by only 12.8%, according to an ADB report titled "Asia's Emerging Middle Class: Past, Present And Future".
Consumer spending in Pakistan has increased at a 26 percent average pace for the past three years, compared with 7.7 percent for Asia, according to Bloomberg.
Many in the deeply conservative Pakistan still cringe at the thought of crass commercialization of occasions like Eid and Ramadan, both of which have special religious significance for Muslims, in shows such as Inam Ghar.
To me it is just an indication that the corporate-owned media business in Pakistan is evolving along the same commercial lines as its western counterparts have decades ago. It is, of course, a matter of grave concern to me and others who see the combined power of money and media as an unwelcome influence in shaping public opinion and government policies.
Nevertheless, media is a business and things are unlikely to change in in the future. For many though Aamir Liaquat is anything but religious. He's a successful showman and pitchman who's made a living out of religion.
And Aamir Liaquat is not the first one to do so; if we look at the amount of wealth Churches in the west have accumulated over the years. There are many rich televangelists with electronic churches in both Europe and America who get tens of millions of dollars in donations.
Even in Pakistan, Aamir Liaquat might not be the first one to do so as commercial Mullahs have long been part of the Pakistani culture! Just look at how an average mullah makes a living in Pakistan and Aamir Liaquat might seem less of a villain.