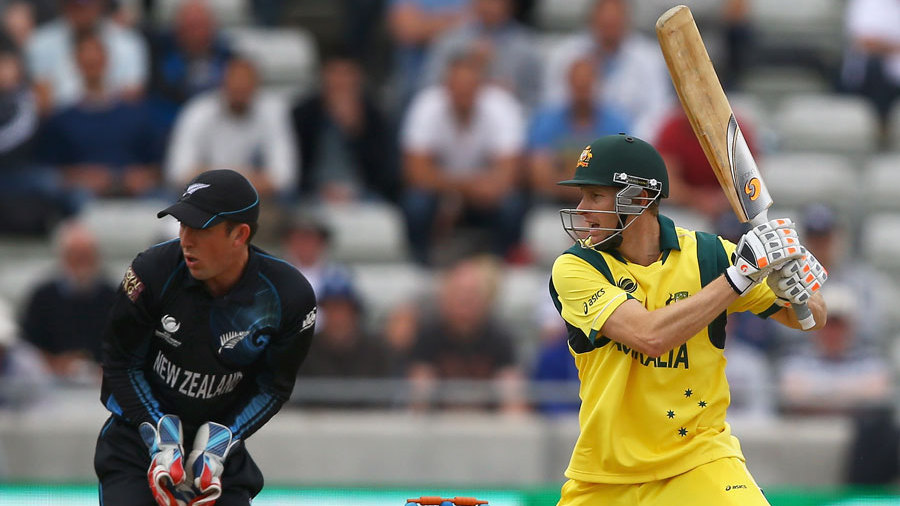 Finally we are about to find out who is the best one-day team in the world. Australia and New Zealand are about to fight it out in their own backyard and when you play hard backyard cricket it can get nasty. Hopefully memories of this final will eclipse that of all previous finals.
So who has the momentum? The belief? When you look back to past finals, there is a moment where the game is won or lost. In cricket, it generally tends to come down to fielding mistakes. Ask Pakistan and South Africa where they lost knockout games in this World Cup and they will tell you, it was fielding.
Defence in finals is everything. We just have to look at Dale Steyn's delivery that got hit for six to give New Zealand victory over South Africa in their semi-final. Even the great Steyn found the pressure too much when he bowled a ball right in the slot on a length, instead of a yorker at the stumps. Finals have a way of finding weaknesses and if you have any weakness in your game, the MCG will find it quicker than most other grounds.
First, the MCG will reveal whether you can field. Do you have a good arm to enforce a run out? Like when India ran out two South African batsmen from the boundary. Can fieldsmen cope with the huge noise that 100,000 fans will create when you are parking yourself under a fly ball in the outfield? Can batsmen hear each other's calls running between wickets when wearing helmets?
The MCG offers only 37 per cent of its runs in boundaries – the smallest percentage for any ground in the world. This is the first time in this World Cup that the Kiwis have played away from home, so will they have to change their game plan? They score a lot of their runs in boundaries. Well they won't get away with it at the MCG.
From the past 11 matches played at the Melbourne ground, the team batting first has won eight. The highest successful run chase in 143 one-day internationals is 297. One thing going for the Kiwis is that five of them played at the MCG in 2009 when they defeated Australia – the last time the teams played an ODI in Australia.
There are some interesting questions about this New Zealand team. Will Brendon McCullum think he can get away pulling and hooking like he does back home? Will Michael Clarke tempt McCullum to go after Glenn Maxwell?
Records tell us that Martin Guptill struggles against Australia, where he averages 22. Kane Williamson is not quite in the groove in this World Cup, although Australia has yet to dismiss him in an ODI. And Ross Taylor has had a mediocre World Cup by his standards.
The ball generally does not swing at the MCG like it does back in New Zealand. Trent Boult's major weapon is his in-swinger. Will the Australian batsmen go after him or sit on him? Apart from Boult, who has had a blinder of a World Cup, Daniel Vettori averages just 41 against Australia with the ball. Tim Southee averages 54 against Australia.
But one thing the Kiwis have is belief. That has been ingrained in them by the very impressive captaincy of McCullum. BMac took over this team in turbulent times when Taylor was struggling with captaincy issues. McCullum's philosophy in ODI captaincy is perhaps what makes him the best. Just take wickets is his mantra. Set fields to take wickets and the result will look after itself. It is a simple philosophy but very effective. NZ are in a purple patch with 13 wins from their past 14 ODIs. They have never played ODI cricket as well as this at the moment.
The Australians match up well against the Kiwis. They have two left-armers – Mitchell Starc and Mitchell Johnson – who can swing the ball back into the right-handers. Their depth in bowling is better than the Kiwis. If an Australian bowler is injured, then their depth of Clarke, Aaron Finch and Steve Smith comes into play. Man-to-man, Aussies have a better fielding unit as they are more agile and have better arms. Their attacking fieldsmen such as Maxwell, Steve Smith and Clarke hit the stumps more often.
Another main danger for the Kiwis is James Faulkner, who they will target when he is bowling. Again at the SCG, Faulkner showed that he is so strong mentally, bouncing back with the ball so well after being hit early in his opening spell. With the bat, he can smash it to all parts at the death. , and with the ball he has a jaw strong enough to withstand any punishment the Kiwi batsmen might try to inflict.
Australia has only a two-day break before for the final, but I think this is a good thing. The Kiwis have been in Melbourne since Wednesday and they have been trying to distract themselves with a lot of golf and nets. Sometimes this doesn't help. Sometimes, sitting in your room and thinking too much can be your enemy.
I feel this game will be won with the new balls. Can the Kiwi batsmen cope with Starc, who gave them nightmares the last time they met? Maybe batting outside their crease can help counter his in-swinging deliveries. Or they could just try to keep him quiet and play him very late. Use his pace as an asset to work the ball around.
Josh Hazlewood was so impressive in the semi-final against India in Sydney. Will the big stage frighten him or just spur him on to greater heights? He hits the bat hard and bowls a wicket-taking length early. Always probing and his recent development has been brilliant.
This final would be a great opportunity for Johnson to really stand up and remind everyone who is the most frightening bowler in the world. He has had a reasonably quiet tournament and Starc is closing in on Johnson's tag of being the No. 1 bowler in this Australian ODI team.
If this Australian team won the final, how would they rate among Australian ODI teams?  Bowling wise, they are probably the best, even though they don't have a specialist spinner. Batting might be a bit thin in comparison with other Australian teams, but their fielding skills are brilliant.
If Australia win, they will have won 18 of their past 21 ODIs and that's something no other Australian team has done. Though being a Pakistani I am sure we want to see a new world champion this time so let's cheer for the Kiwis!