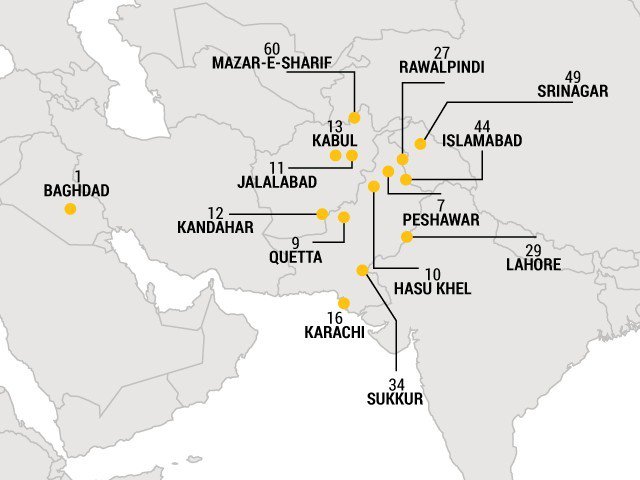 According to the analytics given by the Verisk , 8 Pakistani cities are listed among 64 cities from all around the world that are at an extreme risk of terror attacks.

The cities in Pakistan include Islamabad the capital at (44), Sukkar  (24), Lahore (29), Rawalpindi (27), Karachi (16), Hassu Khel (10), Quetta (9) and Peshawar at number  7 topping the list in Pakistan following a deadly attack on an army run school in the city on December 16 which claimed more than 142 lives mostly children. These all cities mentioned above are ranked by the likelihood of a terror attack based on historic trends and the Country Threat Index compiled by Intel Center, a Washington-based company working for intelligence agencies, has placed Pakistan 8th in its list of the most dangerous countries in the world. You must be wondering why Islamabad and Rawalpindi are placed in the world's deadliest cities, well if you look at the historic events, vicious things have occurred and this is what has reflected them. It is indeed very sad to see numerous Pakistani cities as victims of heinous crime.
In 2013, US magazine terms Karachi 'most dangerous megacity' in the world, where the murder rate stands at 12.3 per 100,000 residents, "some 25 percent higher than any other major city".
The world's seven most dangerous cities are all in Iraq, including Isil-held Mosul (2) and Ramadi at number 3. The majority of the cities in the index are in the Middle East (27) and Asia (19).
Three are in Europe, namely Luhansk (46) and Donetsk (56) in Ukraine, and Grozy (54) in Russia. The only South American in the list is Colombia's Cali ranked at number 59. Famous places like Paris isn't left behind either and is ranked 97th in the world, up from 201st at the start of the year prior to the Charlie Hebdo attacks.
The British city most at risk of terror attacks is Belfast (91), followed by Bristol (178), Cardiff (313), Manchester (398) and London (400).
Some 14 are in Africa, where the rise of Boko Haram and al-Shabab as well as political instability have increased risk of terror attacks.
Cities are ranked based on the intensity and frequency of attacks in the 12 months following February 2014, combined with the number and severity of incidents in the previous five years.