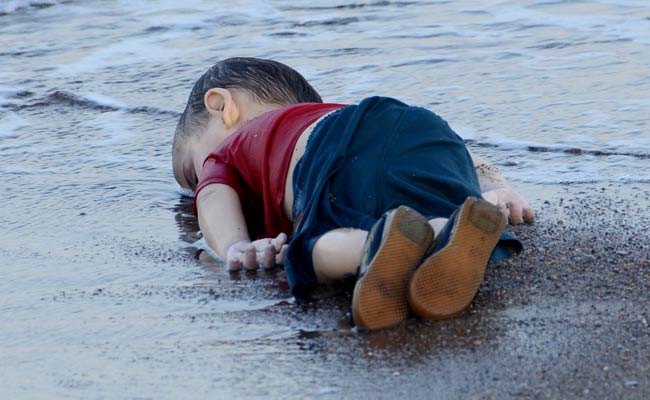 The Syrian people have been embroiled in a never ending violence ever since Arab Spring protests began in their country four years ago. Nevertheless the plight people of Syria are facing was further highlighted when the photographs of the body of a two year old boy lying face-down on a beach near Turkish resort of Bodrum were released on internet. As it turned out he was one of at least 12 Syrians who drowned attempting to reach Greece.
The picture, taken on the morning of 2nd September, depicted the dark-haired toddler, wearing a bright-red T-shirt and shorts, washed up on a beach, lying face down in the surf not far from Turkey's fashionable resort town of Bodrum.
A second image portrays a grim-faced policeman carrying the tiny body away. Within hours it had gone viral becoming the top trending picture on Twitter under the hashtag #KiyiyaVuranInsanlik (humanity washed ashore).
Turkish media identified the boy as three-year-old Aylan Kurdi and reported that his five-year-old brother and his mother too had also met a similar death as the family was trying to flee to Europe through sea. Both had reportedly hailed from the northern Syrian town of Kobani, the site of fierce fighting between Islamic state insurgents and Kurdish forces earlier this year.
With the conflict raging on for over four years now, millions of Syrians have been fleeing their country in search of safety and a better future abroad!
However now with millions fleeing Middle East, Europe has finally shut down its doors for the hordes of migrant refugees arriving! Immigration and refugee hosting they believe is simply not allowable with unemployment soaring and additional refugees becoming a burden on their already fragile welfare systems.
Aylan's father, Abdullah, who survived the capsizing that killed his family, wept as the bodies were buried in the predominantly Kurdish Syrian border town. Speaking at the crossing with Turkey, he said he hoped the death of his family would encourage Arab states to help Syrian refugees.
"I want from Arab governments, not European countries, to see my children, and want them to help my people," he said in footage posted online by a local radio station.
The bodies were flown to a town near Turkey's border with Syria, from where police escorted funeral vehicles to Suruç and across the border into Kobani.
Turkish MPs accompanied Abdullah Kurdi to Kobani, the scene of fierce fighting between Islamic State insurgents and Kurdish forces earlier this year. Journalists and well-wishers were stopped at a checkpoint about two miles from the border.
Unlike other Syrians heading for Europe, the Kurdi family had lived in Turkey for three years before deciding to head to Canada, where Abdullah's sister has for several years attempted – and failed – to sponsor their asylum claim.
Abdullah said the boat in which the family had been travelling had started taking in water about 500 metres from the shore and that, despite his best efforts, he had not been able to hold on to his wife and two sons. "I was holding my wife's hand," he told the Turkish news agency Dogan. "But my children slipped through my hands. It was dark and everyone was screaming."
The bodies of Aylan, Ghalib and Rehan were found on Wednesday after the small rubber boat they were travelling in capsized. They were among 12 refugees who drowned off Bodrum that day.
"He only wanted to go to Europe for the sake of his children," said Suleiman Kurdi, an uncle of the grieving father. "Now that they're dead, he wants to stay here in Kobani next to them."
The haunting image of the 2-year-old Aylan Kurdi washed up on a Turkish beach focused the world's attention on the wave of migration fueled by war and deprivation.
Whatever we might say to Europe but the truth is that even the filthy rich Gulf Arabs seem to have abandoned their brethren in Syria and are more focused on the social and political problems these refugees might cause to the Sheikhdoms if these refugees arrive in Gulf. Let's just hope the crises in Syria resolves soon and the Syrians are finally able live in their own country with dignity!