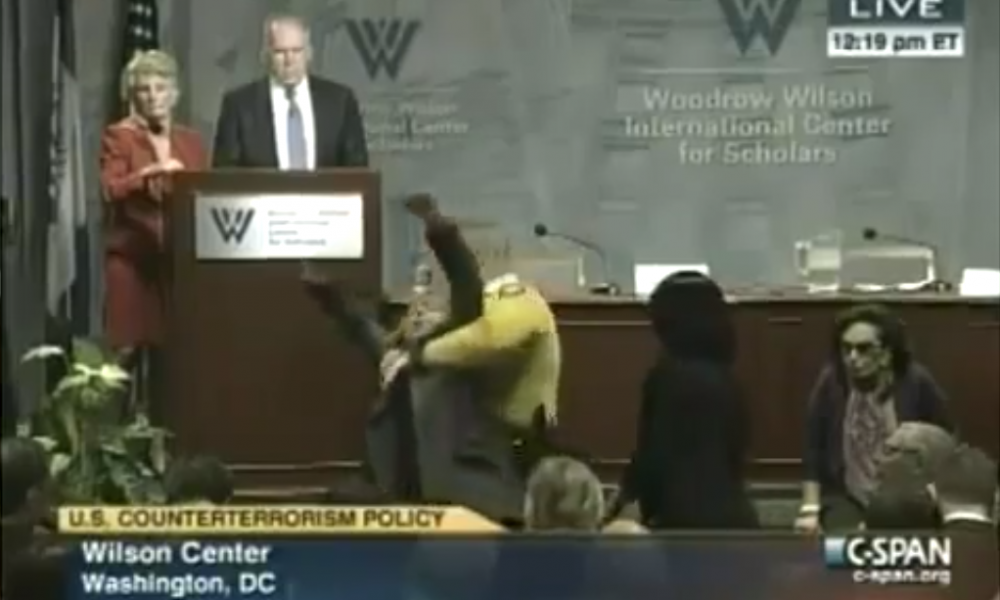 American Woman Deliberately Speaks Against Drone Strikes In Pakistan, Somalia and Yemen in Sep 10, 2012.
I know what are you thinking right now? When did this happen and how come you never got to know about this. However, the answer is quite simple , such news are never broadcasted and shown to the public , why should USA bother to make them look like monster's, when they can portray them self as complete innocent and the one's with most affinity. You can go ahead and GOOGLE about this news and I am  100% percent certain that you will not find one article about this, because I have found nothing other than a video on you-tube which I will be sharing with this article. The man you see speaking is John Owen Brennan, who is an American government official Director of the Central Intelligence Agency. Yes the CIA. An American Woman told to be an anti-war protester interrupted Brennan's speech and said: "What About The Hundreds Of Innocent People we are Killing With Our Drone Strikes In Pakistan ,Yemen and Somalia. I speak out on behalf of those innocent victims, they deserve an apology from you Mr. Brennan. How many people you are willing to sacrifice? Why are you lying to American people and not saying how many innocents have been killed? As you can see the in video , how she is dragged away from the room and none of the people there did something about it, if only another individual in that room had stood for her , and then maby a few others would have stood up for her too and that's how people unite for a better cause and the output would have been strong , now they can't just drag away all the people from the room can they? Sad to say , none of them stood up and decided to see the world by the perspective of a CIA official. All of them in that room are criminals. Hiding the truth, it makes all of them cowards and murderers!
I personally agree with this lady, may God bless her for speaking the truth , the American government is itself breeding terrorism with it's foreign policy , they should stop these killings and we all need to share love and compassion in this world , religion is not the issue here it's humanity that is lacking in people in all religions and the greed in world leaders that cause blood shed and I am certain that there are more Americans like her who know the reality behind all this and are willing to stand up , all they need is a push!