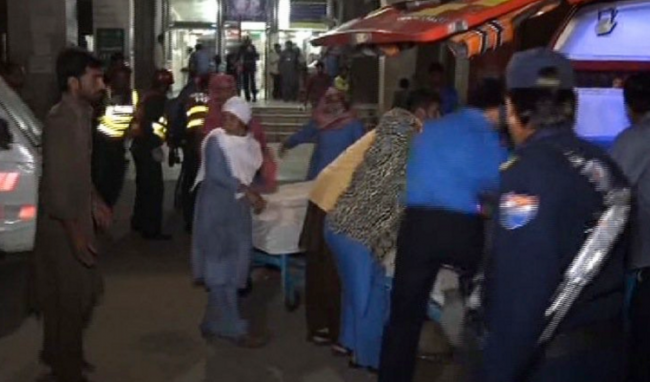 Lahore, Pakistan: Tehrik-i-Taliban Pakistan (TTP) and Lashir-i-Jhangvi (LeJ) are behind Gulshan-e-Iqbal Park blast, claim intelligence sources.
Read Also: 52 dead, over 100 injured in suicide attack at Gulshan Iqbal Park Lahore
The target of terrorist outfits were Christian families who were enjoying Easter Holiday in Children Park.
Over 53 people including children and women were reportedly killed while the number of injured persons was over 200. However, doctors in operation theatre believe that number of dead persons was over 60+.
Government of Punjabi has announced 3-Day Mourning over this incident of terrorism while Pakistan Army participated in rescue operation.
Lahore was on high alert since Saturday evening after the arrests of some important members of LeJ from Town Ship Lahore and even metro bus services was partially suspended on Saturday evening. Law enforcing agencies raided Town ship hide out of terrorists from getting tips from Lodhran where four terrorists were killed and three were arrested.
Intelligence agencies sent a high alert to Punjab government on Saturday night for possible terrorism activity in Lahore because terrorists during investigation who were arrested from Lodhran indicated that LeJ and TTP would take revenge of killing of their members.
Initiation reports suggested that it was a planted bomb but some eye witnesses said it was a suicide bombing.
One eye witness claimed that a beard man entered into the place where children were playing and he blew himself after reciting Allah-o-Akbar (God is great). DIG Lahore range also claimed that it was a suicide bomb blast.
Police sources claimed that target was families of Christian families who were enjoying Sunday Holiday and Easter and majority of victims are  Christian families.
Emergency has been announced in Jinnah Hospital, Mayo Hospital and Services Hospital where dead bodies and injured have been moved and hospital administrations have appealed for blood donations because number of injured have gone up to 30 in critical condition.
Prime Minister Muhammad Nawaz Sharif, Chief Minister Punjab Mian Shahbaz Sharif, Chief of PTI Imran Khan and PPP leader Bilawal Bhutto have strongly condemned the attack on innocent civilians and said that terrorists are not human and they belong to no religion.