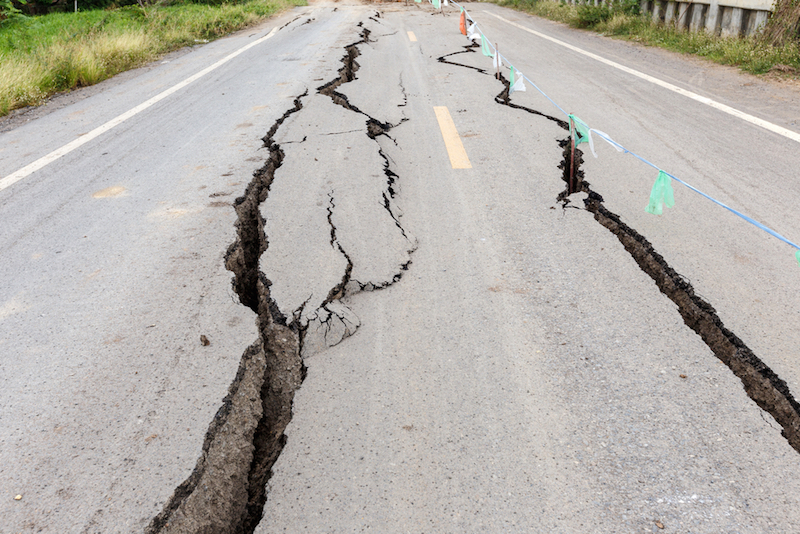 An earthquake of 6.6 magnitudes jolted Islamabad, Pakistan along with parts of Punjab and Khyber-Pakhtunkhwa on Sunday.
At least one person was killed and many others injured in Pakistan. The casualty was a result of tremors causing a landslide on the Karakar mountain range connecting Swat and Buner.
The Pakistan Meteorological Department (PMD) said the earthquake magnitude was 5.9, with its epicenter in the Afghanistan-Tajikistan border region.
However, the United States Geological Survey reported the magnitude of the earthquake was 6.6 and traced its origin to the Jarm region in Afghanistan.
Prelim M6.6 earthquake Afghanistan-Tajikistan-Pakistan region Apr-10 10:28 UTC, updates https://t.co/aCJBA5Aqwv

— USGS Big Quakes (@USGSBigQuakes) April 10, 2016
The USGS said the quake was centred near Chitral at a depth of 210 km. Tremors were also felt in the Indian capital and in Kashmir, witnesses said, forcing residents to leave homes. There were no immediate reports of damage or injuries.
Tremors were felt in Murree, Rawalpindi, Gujranwala, Gilgit-Baltistan, Abbottabad, Mansehra and surrounding areas. According to Reuters, tremors were also felt in the Indian capital, Kashmir, and Afghanistan.
At least 27 people, including women and children, with minor injuries, were brought to Lady Reading Hospital (LRH) in Peshawar following the earthquake in the province.
LRH director for accident and emergency Dr Khalid told The Express Tribune all the injured had sustained minor wounds, adding 18 people were discharged following medical assistance at the facility.
Meanwhile, spokesperson Rescue 1122 Bilal Faizi said they did not receive any information on damages due to the earthquake.
Meanwhile, at least five people including two women and children were stuck under the rubble when a roof fell in Dogdarra area of Upper Dir.
"The roof was already made weak by the continuous rain, and collapsed during the earthquake," police officials from the area said.
Telephone networks have reportedly been disrupted in the affected areas and an emergency has been declared at all hospitals across K-P.
According to ViewStorm, tremors were felt for more than 60 seconds.
The quake spread panic among people and they rushed out of their homes. Many commercial and residential buildings in different cities located in the effected areas evacuated after the shocks.
#earthquake in pakistan video catch https://t.co/YVmjuwqDsf

— Camera Reviews (@howshutterbug) April 10, 2016
Everybody asked to vacant the mall after the #earthquake. #Chandigarh #elantemall pic.twitter.com/xb2IQuVtZR

— Ranjodh Singh Johal (@fallin2faith) April 10, 2016
पाकिस्तान में जोरदार भूकंप, दिल्ली-एनसीआर समेत उत्तर भारत तक महसूस किए गए झटकेhttps://t.co/KXftsoUjdu#earthquake pic.twitter.com/VsdYFc3s3J

— NDTVIndia (@ndtvindia) April 10, 2016
Massive Earthquake in Islamabad Allah Khair karey

— Hamid Mir (@HamidMirGEO) April 10, 2016
Omg massive tremors in #lahore #earthquake

— Nighat Dad (@nighatdad) April 10, 2016
Wow that was a strong earthquake

— zainab abbas (@ZAbbasOfficial) April 10, 2016
My God what an #earthquake was that. #Peshawar

— Iftikhar Firdous (@IftikharFirdous) April 10, 2016
In October last year, over 200 people were killed as a strong earthquake jolted Pakistan and Afghanistan.
PM directs relief, rescue work
Prime Minister Nawaz Sharif has directed all state institutions to begin rescue efforts for the ones affected by the earthquake and provide relief to them.
In a statement, the premier directed all federal and provincial civil, military and relief institutions to remain alert and employ their resources to help those in need and provide help wherever necessary.