Kito is Thailand's most famous footwear brand that manufactures EVA, Phylon, Air Blow, PU & PVC slippers, sandals, and sports wears. After earning great success in Thailand, Kito's footwear's makes its footprints in Pakistan. You can buy Kito's dress sandals, Fisherman sandal, sports sandal, flip flops, slide-in sandal and lot more from Pakistan. Kito's footwear's are designed to fit on every occasion.
As the temperature rises with the summer season, people put-off the tight shoes and feel comfortable to wear open sandals and slippers. And they usually look good with jeans and shalwar kameez.
Since Thailand is a warmer place to live, these slippers and sandals are high in demand. Similarly, weather of Pakistan in most areas are pretty warm too. So, Kito has high chances of success in Pakistan. Recently, this brand is been launched by two entrepreneurs in Pakistan. They are currently selling it through website and Facebook shop.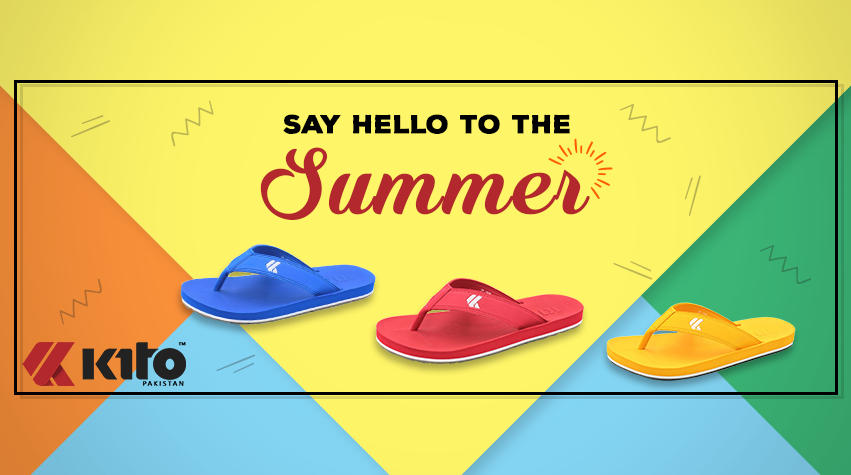 So What makes Kito Unique!
Kito has a ready-to-go pair of footwear for all energetic and active men. The design of footwear is such that it makes your life hassle-free. Furthermore, its orthotic insole keeps the debris away allowing your feet to stay fresh all day long.
People love Kito footwear because of its attribute of breathability. The style of Dart is such that it allows your feet to breathe in all possible manners which enables your feet to stay dry and provides all the day comfort to your feet.
A collection of women's footwear of Kito will soon launch in Pakistan.
Price
For many, the cost of high-quality footwear's may seem uncomfortably high. Kito's footwear is worth the price, though—they boast a high level of comfort and are significantly long-lasting than their counterparts. When considered in long-term, purchasing quality footwear's is actually easier on the wallet.
Features
Unlike to other local footwear brands, Kito's footwear is more comfortable, stylish, elegant and affordable. Kito footwear's have following qualities
Finest Material
Water resistant
Reliable
Made from the finest material
Affordable
Long Lasting
Designed for all occasion
For more information about Kito's footwear, visit http://www.kito.pk/ or follow them on Facebook.