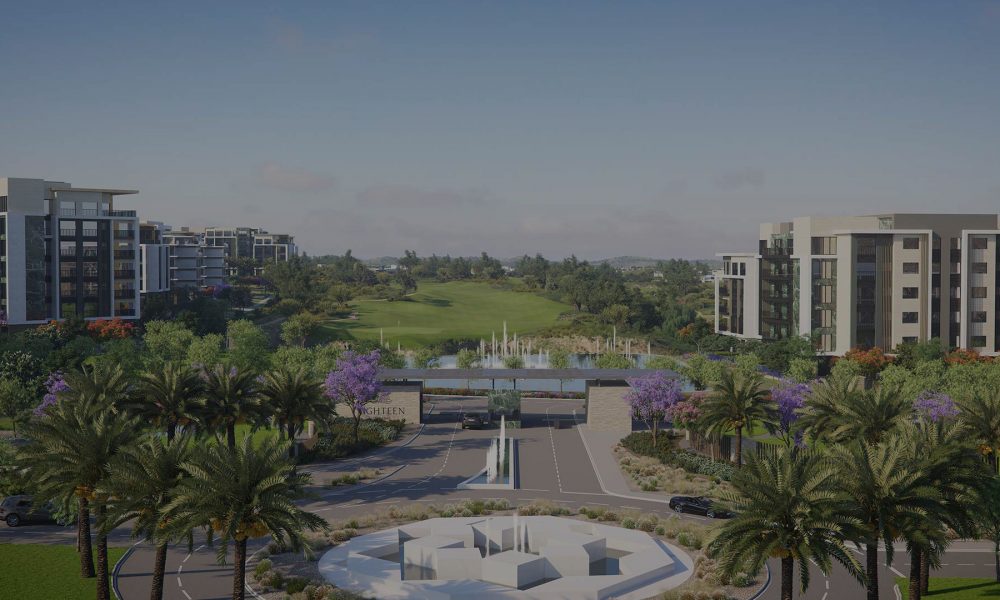 Ora Developers, Saif Group and Kohistan Builders & Developers had a vision of bringing a new and international way of living to Pakistan. Together, they assembled the best in design, construction and sustainable living to create the ultimate lifestyle destination.
They designed a community of villas and apartments serviced by world-class amenities, a secure, relaxing, luxurious environment created for people who expect the very best. Today, their dream is a reality, and they proudly present a rare and exceptional development which you can make your home.
The project is situated somewhere in sectors H17 and H18 on Kashmir Highway. This makes it a good location as it provides easy access to Motorway, New Islamabad Airport and all parts of Twin cities of Islamabad and Rawalpindi through Kashmir Highway and GT Road.
Egyptian Billionaire Mr.Naguib Sawiris is the owner of Ora Developers whereas Saif Group is a Pakistani conglomerate with business interests in real estate, textile, and energy.
Eighteen Islamabad presents an array of luxurious living options suitable for families of all sizes. For couples, there are chic, city-style apartments, dramatically designed with wide-angle, uninterrupted views of the golf course. For larger families or those who desire more space, Eighteen offers lavish private villas. Designed in an intriguing and exclusive crescent shape these expansive four- and eight-Kanal villas are truly extraordinary homes.
Let's have a look at the features offered by Eighteen Islamabad:
The heartbeat of Eighteen Islamabad is the Club, a modernist masterpiece with a central location overlooking the 18 hole championship course. The Club is the home of golf at Eighteen and will also be the social and entertainment hub of the development. It is a favorite spot for gourmet dining, drinks at sunset on the rooftop terrace, a range of leisure activities, or simply as a place to relax, unwind, and connect with friends. Furthermore,  sporting facilities include a cricket pitch, squash courts, a sports hall, swimming pool, pro shop, yoga studio and a cigar lounge.
The Square at Eighteen provides residents and visitors alike with exclusive high-end shopping and dining centered around a welcoming, open-air square.  Split over three levels, The Square is the perfect spot for couples and families to dine, shop, or take a relaxing stroll, and a dedicated entrance from the highway allows easy access for Islamabad shoppers.
The Resort at Eighteen offers the same exceptionally high standards that Eighteen residents enjoy, presented in a five-star boutique hotel. Limited to just 150 rooms, it provides the privacy and seamless, personal service expected from the world's finest hoteliers. Moreover, with spa, gym facilities, extraordinary dining options and an event space capable of hosting and catering 1,000 guests, The Resort at Eighteen is unlike any other facility in Islamabad.
Furthermore, Eighteen Islamabad offers residents both emergency and non-emergency medical facilities onsite and just moments away from their homes. In addition with a fully equipped A&E unit, inpatient and outpatient wards, and a wide array of specialists, The Clinic is prepared to handle all medical issues directly within the development.
Below are the prices of Villas:
| Property Type | Plot Size | Built up | Price Range (USD) |
| --- | --- | --- | --- |
| 10 Marla | 207.18 - 365.39 | 255 | 282,252 - 345,588 |
| 1 Kanal | 399.42 - 544.48 | 415 | 537,813 - 618,626 |
| 2 Kanal | 878.68 - 1334.65 | 650 | 1,071,914 - 1,218,519 |
| 4 Kanal | 1778.59 - 2204.43 | 900 | 2,260,785 - 2,802,075 |
| 8 Kanal | 3726.77 - 4020.23 | 1177 | 3,670,117 - 3,909,695 |
The Payment schedule of apartments and villas in Eighteen Islamabad is as follows: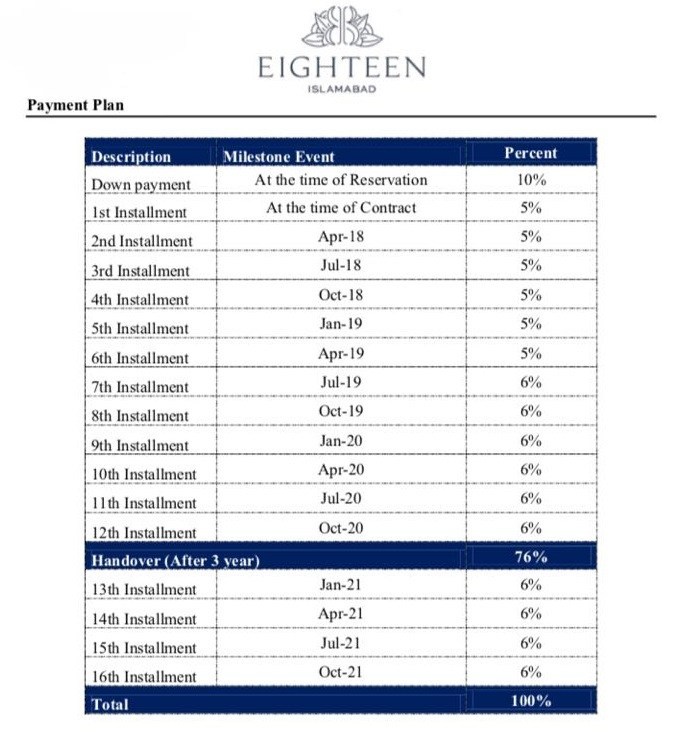 If you are interested in buying property in Eighteen Islamabad or have any queries related to it then feel free to contact Berq Properties.