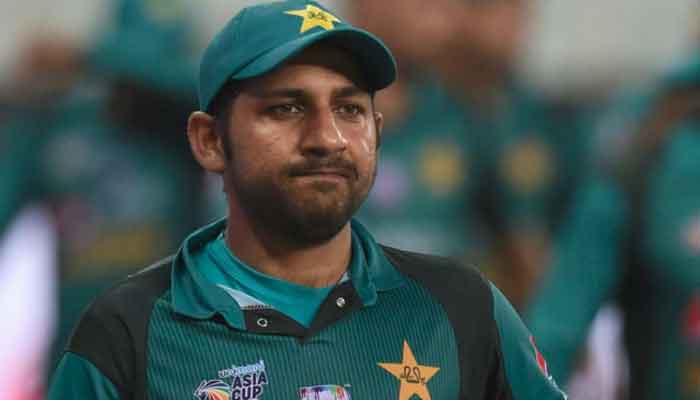 Sarfraz Ahmed has apologized to SouthAfrican all-rounder Andile Phehlukwayo after passing a racist remark to him in the 2nd ODI of Pakistan vs SouthAfrica series.
According to Sarfraz's official tweet, Phehlukwayo was gracious enough to accept the apology. Here is the tweet posted by the Pakistan Cricket captain.
This morning I apologised to Andile Phehlukwayo and he was gracious enough to accept my apology .and I hope the people of South Africa also accept my apology. pic.twitter.com/bco00dGumR

— Sarfaraz Ahmed (@SarfarazA_54) January 25, 2019
This is a welcome move by Skipper Sarfraz. And it was appreciated by everyone.
The incident happened halfway through the 37th over of South Africa's tense chase in the second ODI in Durban. Here is the video.
Very, very poor from Sarfraz to say the least. So disappointing and hope there's strong punishment.

Not too impressed with Rameez' handling of it either.pic.twitter.com/DVBFnYCTjt

— Barny Read (@BarnabyRead) January 23, 2019
English Translation of what Sarfraz said: "Hey black guy, where's your mother sitting today? What [prayer] have you got her to say for you today?"
Sarfraz was clearly frustrated as you can hear him saying in the end: "Out hei nhe hu raha" which translated into English means "he is not getting out".
Andile Phehlukwayo was lucky throughout his innings, being dropped once and surviving close calls. And what led to the frustrated Sarfraz saying such words. However, in his tweets, he mentioned that it wasn't his intention to hurt anyone.
1/2 – I wish to extend my sincere apologies to any person who may have taken offence from my expression of frustration which was unfortunately caught by the stump mic during yesterday's game against SA. My words were not directed towards anyone in particular and…

— Sarfaraz Ahmed (@SarfarazA_54) January 23, 2019
2/3 – I certainly had no intention of upsetting anyone. I did not even mean for my words to be heard, understood or communicated to the opposing team or the cricket fans. I have in the past and will continue in future to appreciate the camaraderie of my fellow cricketers from…

— Sarfaraz Ahmed (@SarfarazA_54) January 23, 2019
3/3 – …across the globe and will always respect and honour them on and off the field.

— Sarfaraz Ahmed (@SarfarazA_54) January 23, 2019
The Internation Cricket Council (ICC) has taken up the matter as they have received a report from match referee Ranjan Madugalle. However, we're still not sure whether any action will be taken against Sarfraz.