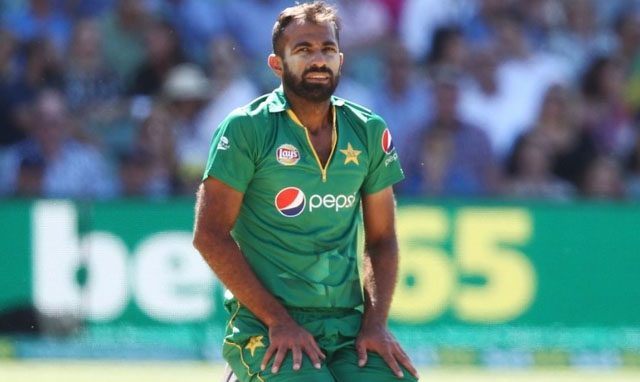 Wahab Riaz is too risky an option for a tournament like the World Cup. He can still bowl fast, I get it. But he is unreliable, particularly when the pressure is on. On his off days, he can leak a lot of runs.
He is a hit and miss type of bowler similar to Usman Shinwari.
Wahab Riaz Stats
Recently, Pakistan's domestic one-day tournament finished a month ago. Wahab Riaz had the best overall figures; an average of 20.70 and economy rate of 4.60 which is impressive.
However, performing in a domestic tournament is much different to a 50 over World Cup. The conditions in England will not be similar to Pakistan. Wahab's bowling is more suited to sub-continent conditions.
Therefore, he is more likely to fail in England.
Most importantly, Wahab's ODI stats are not convincing at all: An average of 34.34, an economy rate of 5.68.
In England, he has played 7 matches and his stats are way worse there: An average of 96.25, an economy rate of 6.67.
Let's compare his stats to Mohammad Amir.
Amir's overall ODI stats: An average of 32.85, an economy rate of 4.78. In England, he has played 9 matches and his stats are a lot better than Wahab Riaz;  an average of 38.33 and economy rate of 4.91.
In his last international ODI match played against India in the 2017 Champions Trophy, Wahab went for 10 runs per over. He also has the honor of bowling the 2nd most expensive ODI spell in history. His figures were: 110 runs off 10 overs – an economy rate of 11 runs per over.
This happened in the match against England at Nottingham (England).
Case Closed for Wahab Riaz?
So, the question arises that why some Pakistani Cricket lovers are asking for his return to the side. They want him in the final World Cup squad.

Can you believe it?

I certainly can't. Maybe, it's due to their short-memory or the typical ignorant Pakistani Cricket fan understanding (Calling for a discarded player dropped because of his poor performance to be included in place of an existing player whose performance is poor).

So in other words, going round in circles.

It is more strange considering the fact that we already have a fiery fast bowler in Mohammad Hasnain who is pacier than Wahab.

So the argument that we need one pacer who can bowl 150 km/h is negated.

And if the argument in favor of Wahab is due to his experience, it is also futile. Junaid Khan can provide the experience as he has played a lot in England.

Plus, we have Mohammad Amir. So it's not like we're short of experience in our bowling line-up.

The bowling performance so far from Pakistan was somewhat expected as they are without their leader of the pack – M. Amir.

He can stem the flow of runs from one end which didn't happen at all in the 3rd ODI against England.  And give some stability to the bowling line-up.

<!-comments-button-->