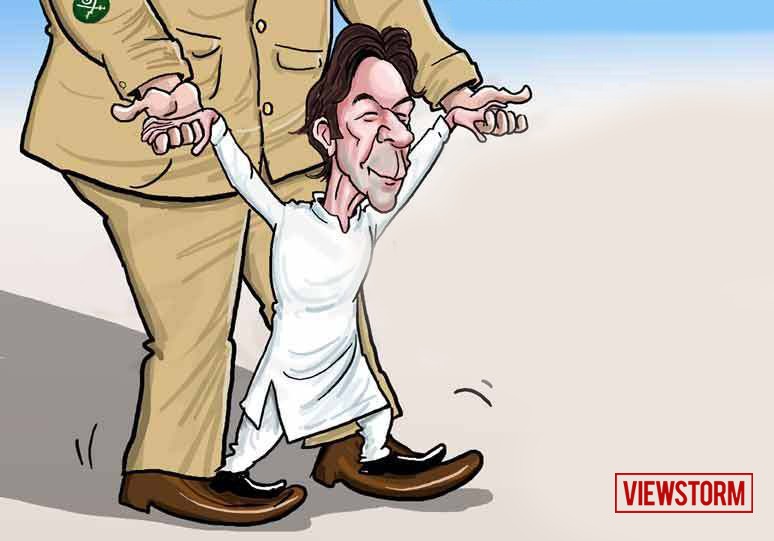 Neither is he a messiah nor a savior. He is NOT the anti-corruption hero. Plus, he isn't honest as well. So what is Imran Khan? He is not financially corrupt, true. He is a celebrity, yes. He was a champion cricketer, also true.  He is a philanthropist. And, he is handsome.
But does him being a celebrity and not being corrupt, work in his favor? Or is that really enough?
It works in his favor for the brainwashed youth and the elderly crowd of people. But it is certainly not enough for people who are against worshipping a man who doesn't have the capacity to be the head of state.
Running a dysfunctional country like Pakistan is not easy. Heck, running any country is not easy.
To bring real change in Pakistan, you need heavy-weight balls. Yes, balls that can stand anything, be it the powerful military or the mullahs.
So does Kaptaan has balls that have the required volume? Or does his balls come up shorter than even the average volume?
Neither of the two conditions holds true.
Because his balls have shrunken to a level where you cannot expect anything courageous. His job is like that of an employee who has certain duties and obligations, but the moment he tries to work in his own way, the boss will show him the door.
Considering that an employee is just that – a powerless employee – nothing more or less.
But there are two things which PTI supporters believe in: Imran Khan is not a puppet. He was fairly elected and not 'selected' as the Prime Minister of Pakistan.
Nothing can be more untrue than the notion that Khan's ascension to power had nothing dirty about it.
Second, the strong belief that 'corruption' is the root cause of all evils in Pakistan. Corruption is a symptom rather than the root cause of all problems in Pakistan. But just for the sake of argument, let's assume PTI's narrative to be true then why is Imran Khan's anti-corruption fight only limited to politicians?
Accountability must be across the board. The deluded and naive won't accept this argument, though the fact is: The so-called 'anti-corruption narrative' is just a 'lollipop' to show that he is working on his promise to punish the corrupt.
Nothing good will come out. But the followers of Mr. Clean think otherwise.
Well, let them think and have their moments. There is no point in arguing with someone who can't diagnose the illness.
So what lies ahead?
The blind worshippers will continue to sing praises of their hero. And some journalists (Bilal Lakhani and others) will defend 'Im the Dim' by saying rubbish like this:

Yes, it was the sinister Media that advised the great opposition leader Imran Khan to campaign against the policy of begging from foreign countries and IMF. And then when in power, do exactly the opposite.
It was also the negative Media (You bad son of a bit*h) that suggested PM Khan go for the Amnesty Scheme when he as the opposition leader had campaigned against it.
Moreover, the appointment of Usman Buzdar aka Wasim Akram Plus was also due to the efforts of Media.
Was it also the Media that undertook the very successful BRT project that is still not completed?
The same author (Bilal Likhani) goes on:

Foreign Policy? Seriously man? Does the Puppet Prime Minister who can't utter a word on the Waziristan issue between the PTM and the Army will have the guts to decide foreign policy issues?
And yes, it was Imran Khan who destroyed Abhinandan's Mig-21 jet. The Tipu Sultan in Imran Khan awakened and the brave leader bloodied Abhinandan Varthaman's face. In fact, it was Khan himself who devised the strategy for the retaliatory airstrikes.
Secondly, anyone who believes that the release of the captured Indian pilot was Imran Khan's decision is either an idiot or delusional.
The genius writer (Bilal Lakhani) makes one more stupid point:
I will correct it: "The delusional group of PTI followers (Youthias)" is Imran Khan's and his party's biggest contribution.
Meanwhile, gimmicks like this will continue:
Working in the office on a Sunday afternoon. pic.twitter.com/PIIpRrluqD

— Omar Ayub Khan (@OmarAyubKhan) May 26, 2019
The reality is: Just because Imran Khan won the 92 Cricket World Cup doesn't mean he would succeed as the Prime Minister of Banana Republic.
People forget that in the 92 WC win, Pakistan had match-winners like Wasim Akram and Inzamam-ul-Haq. But in PTI, I don't see a Wasim Akram. Neither do I see an Inzi.
But as Ramiz Raja said in a recent interview with Samina Peerzada, "Imran Khan is bound to succeed", we can only hope for a miracle.
This sentiment (the infalliable hero) represents many Imran Khan supporters! #socialpsychology pic.twitter.com/mnKEC9QGFo

— Raza Ahmad Rumi (@Razarumi) May 28, 2019
However, there must be a rationale or logic behind predicting such a result. As of now, PTI is just like any other political party. The only difference is "Imran Khan is not corrupt".
People voted for Imran Khan because they thought he is a better option than the corrupt Nawaz and Zardari. But Khan is hell-bent on proving to be worse than both.
If the Messiah fails, the Youthias will blame the system and say this: "Pakistanis don't deserve an honest leader like Imran Khan".
Yes, I agree. We the Pakistanis deserve better.