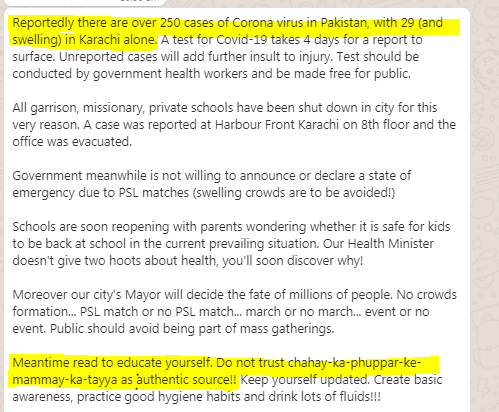 Coronavirus is here. And there is a lot of misinformation being spread around: WhatsApp groups – Yes, one of the biggest platform where one forward message, which has no authenticity or reliable source, spreads like wildfire. The result, that it spreads unnecessary panic which does no good to the public.
But, why do you have to do this?
It is highly irresponsible considering the prevalent situation. Still, the so-called educated people resort to forwarding these messages to their friends and relatives.
I get that you don't trust the government. Well, I don't trust them either. But one needs to be extra careful in an already uncertain and unprecedented situation. And if you're forwarding it, check whether it's authentic because it is quite a 'big' claim.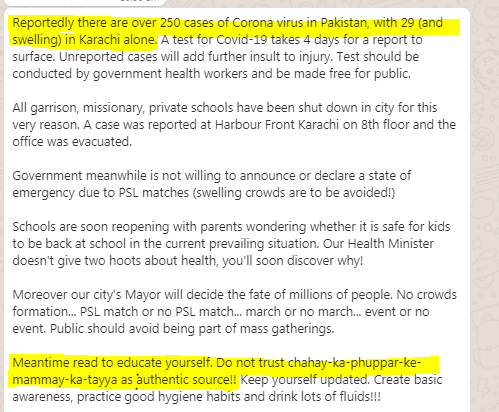 Okay, so first it is written that "there are over 250 cases of Coronavirus in Pakistan". Where is the source? Which organization or government spokesperson has verified this? How can we know that it is authentic?
Ironically, the message goes on to say: "Meantime read to educate yourself. Do not trust chachay-ka-phuppar-ke-mammay-ka-tayya as authentic source!!"
As if the message itself has an "authentic source".  And if it is a 'WhatsApp' forward message, it must be true.
This scourge of viral disinformation through WhatsApp is not new in Pakistan. In recent memory, the 'Israeli Pilot story' comes to mind.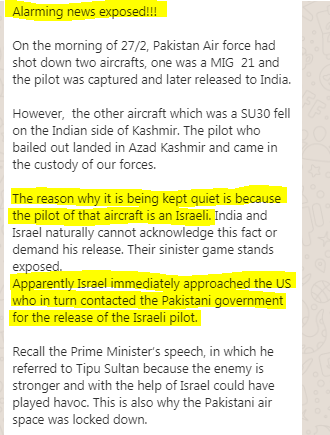 Though, that particular conspiracy cannot be matched because it was beyond ludicrous. Conspiracy theorists love cooking up these absurd theories because they read less and talk more. The reason being: they don't believe in the 'fake media' and their only authentic source is themselves.

Yes, they know everything so they don't need any reading and research.

I have even heard that some conspiracy theorists in Pakistan are saying that actually there are thousands of Coronavirus cases, but the government is hiding it.

By no means, I'm underestimating the threat of Coronavirus. All I'm saying is that we need preventive measures to stop the spread of this virus. Not panic.

<!-comments-button-->