Paul Walker's famed 1993 orange Supra, which was the lead car for the first film "The Fast and the Furious" of the franchise, was for sale on Mecum Auctions in Indianapolis between the 12th and 17th of May. The car, sporting the original vinyls by Modern Image, the wide body kit from Bomex, and the Holley Performance Nitrous Oxide kit, was expected to be auctioned off between the range of $150,000 and $200,000, even though the final buyer and value has not been publically disclosed yet.
The Orange Supra was among the main attractions of the film, and also turned out to be the winning car from the final drag run of Paul Walker against Dominic Toretto's muscle car, the Dodge Charger. The car has even been featured among the collector edition models of the Hot Wheels franchise. It is one of the most recognized cars from the entire series, settling the trend for Paul Walker's ever famous tagline "I owe you a ten second car".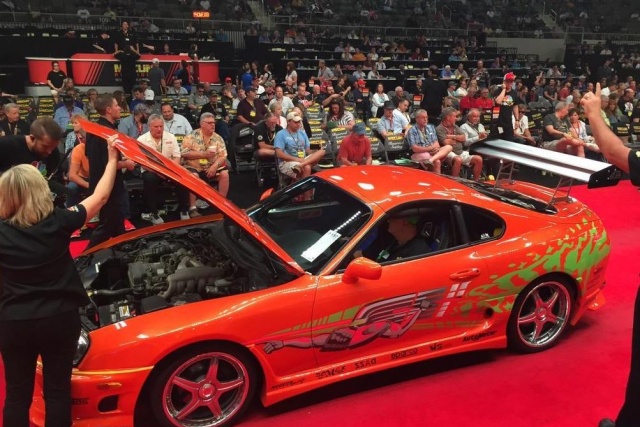 This particular supra was made at the Shark Shop in California by none other than Eddie Paul, renowned for redesigning cars to perform stunts at the big screen. Its structure includes a reinforced role cage, a stunt heavy-duty suspension, an APR spoiler, and the car is dependent on a 220 HP 2JZ engine running on a 5 speed manual transmission. Its Yokohama tyres include alloy rims from Dazz, while Interiors have competition seats and a Sparco steering wheel. It has made numerous public appearances across the US, with the most recent accomplishment winning the "Best in Class Category" at the 2015 Detroit Autorama. So even though being the first car of the series may be too old-school, this ride is indeed a symbol in itself for brining in the whole trend of street racing and modifying local cars to be tuned to bring in a bit of acceleration. With its original features retained since the times it was filmed, it'll always be welcome at any open motorsport event for sponsored promotion campaigns.