Which is the most 'treacherous or unfaithful' country in the world? In – what could be deemed as one of the most awkward moments in recent Internet history – Google said India.
Earlier today, a Google search of 'namak haraam country' or loosely translated 'treacherous country', resulted in the Indian tricolour being displayed.
It wasn't long before this rather odd development was picked up by the media in India and Pakistan, with the story going viral online: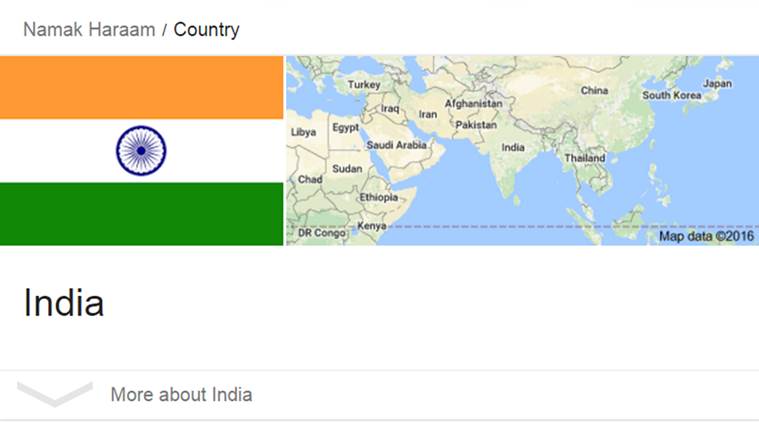 As the most sophisticated integrated search engine in the world, Google is used by hundreds of millions around the world to search for information and news.
Here are some of the reactions on Twitter to Google's 'new label' for the world's largest democracy:
Guys go and write Namak haram country on google and see who is Namak haram.#nooffense pic.twitter.com/xmeI6y63if

— Usama Rajput (@UsamaRajput111) September 27, 2016
Just Google "Namak haraam country"
And see what it shows you. This is hilariously astonishing.

— Proud Khaki (@Proud_Khaaki) September 28, 2016
Its my phone's screenshot ? 100% true…. No photoshop needed#NamakHaraam #India pic.twitter.com/m8edCemTkD

— Muhammad Abdullah (@MA_Ensari) September 27, 2016
India declared #namakharam country according to #google … #achasorry

— M.Shaharyar Saeed (@MShaharyarSaeed) September 27, 2016
Searching namak halal country also shows India.

JUST SAYIN https://t.co/QUl9XLjWpb

— Anas Tipu (@teepusahab) September 27, 2016
It is noteworthy that both Namak Haraam and Namak Halal are popular Hindi movies, starring superstar Amitabh Bachchan, which is one of the proposed explanations online for the Indian tricolor showing up in the search results.
At the time of filing this report, Google had rectified this anomaly. It has not been ascertained yet as to what or who caused this anomaly.