China Pakistan Economic Corridor at what cost?
Is this a really good Economic package for Pakistan?
Will it hurt Pakistani exporting goods manufacturers in future?
Governing party of Pakistan PML(N) knows that any energy plan which could bring electricity is an easy sell to the people of Pakistan and they are using this to give China an excess to Gwadar port. PML(N) Government might not even know how this will hurt Pakistan exporting goods manufacturers in future.
First of all we the people of Pakistan should know NOTHING IS FREE and anyone who is investing his money in any project is looking for his own benefit. So don't think China is helping Pakistan because we are friends.
Is this really a good deal for Pakistan? Mr. Ahsan Iqbal is calling this a deal of the century. This is a much better deal for China but not for Pakistan. Pakistan is giving China $35 billion business to Chinese companies and investors plus a big trade route forever and China is giving Pakistan $11 billion loan in return.
By Mr. Ahsan Iqbal $35 billion will be invested in Energy Sector, which will be built by Chinese Companies. In simple words we are giving $35 billion business to Chinese companies to generate electricity and he didn't explain that what will be the cost of that electricity? Also there will be $11 billion loan and again he didn't explain that how much interest we have to pay. Pakistan already has a big financial death. Why are we keep adding in that death?
Chinese main economy depends on manufacturing and exporting their goods and they want their economy to keep growing and bringing their cost of exports down. China is looking different ways to achieve their goal. Chinese economy will suffer if their manufacturing will slow down, which is declining right now. They need this trade route to our Gwadar port so they can bring their cost of manufacturing down.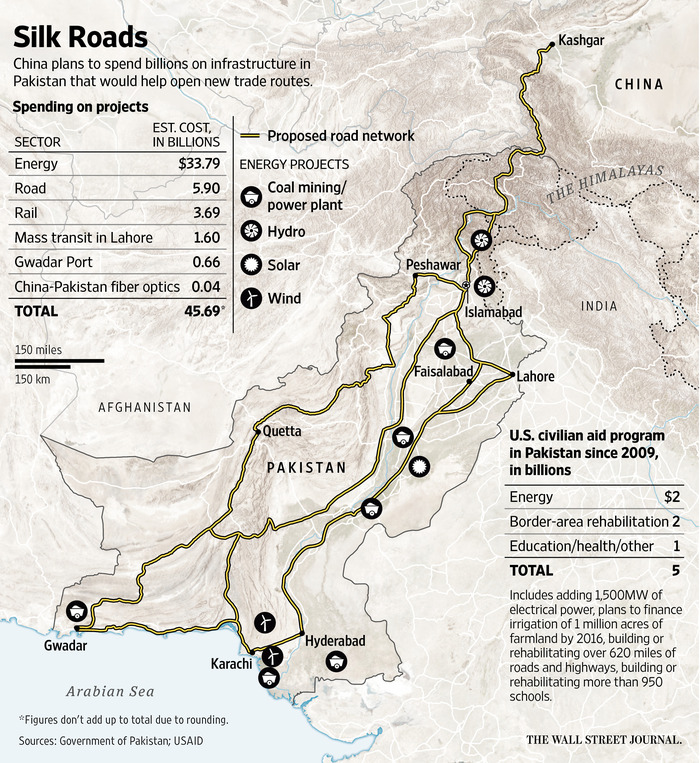 China is giving an investment package of $46 billion to Pakistan which most of Pakistani experts believe will never be fully materialized. About this project, most development statements which come from Pakistan Government are just a way to get around. Majority of Pakistan economists think that it will not help Pakistan's trade because China doesn't import much from Pakistan. However right now China has trade imbalance of 50% with Pakistan.
If Pakistan is giving $35 billion business to China, as fare trade China should give same dollar amount business to companies of Pakistan. Government of Pakistan will not do this, because it will have very less chance of any commissions or kickbacks for Politicians.
More likely every Government of Pakistan has done those development projects which they can get commissions and kickbacks. The politicians who are not happy with this China-Pakistan corridor and as soon as they will get some part from $46 billion project, they will stop complaining.
By PML(N) Government this project is the project of the century and turning point for Pakistan. Let me remind you that PML(N) has always said the same kind of statements for all their previous failed projects. 1- Qarz Utaro Mulk Sawaro, 2- Yellow Taxi, 3- Sastee Rooti and so on.
People of Pakistan need jobs that are good paying white collar jobs for our educated people. Students those who are finishing their degrees are very disappointed in future of finding jobs. This government needs to change its economic planning team and get help from experts those who can help in creating new jobs.
Here is one example of our city Sialkot:
This Chinses trade route will dimension most of Pakistan's hard earned foreign exchange by our exporting goods manufacturer. This route will kill jobs and destroy export sector. Our exporters already have very tough competition with China in the world's market as of right now.
Sialkot is the only big industrial city of Pakistan which was never connected with any major Motorway because Sialkot always had a week leadership and politician.
Sialkot is second largest city of Pakistan in manufacturing and exporting goods for more than 100 years. Sialkot is exporting goods since 1918 and now supplying goods to almost every country of the world, directly or indirectly.
Sialkot exports are around 1600 Million annually and it is strengthening our national economy, also it has more than 10,000 manufacturing companies. Sialkot provides employments to more than 700,000 people directly or indirectly.
Sialkot is the world's largest producer of hand-sewed footballs, with local factories manufacturing 60 million footballs a year, amounting to roughly 70% of world production.
The world's biggest brands sourcing a large portion of their supplies of goods from Sialkot are Adidas, Nike, Puma, Select, Lotto, Umbro, Mitre, Micassa, Diadora, Wilsons and Decathlon. Sialkot supplies footballs from this export-oriented city and hub of cottage industry of the country.
Sialkot's surgical instruments are exported to United States, Germany, United Kingdom, France, Italy, Dubai, Japan, and Netherlands and 20% to rest of the world.
Sialkot's other big exporting sector is Leather garments and this sector is bringing an important foreign exchange for Pakistan. It is earning 217 Million, employed more than 12,000 employees and 217 unite of big and small factories.
Sialkot's manufacturing industry includes:
Sporting Goods: All Cricket sporting goods, All Hockey sporting goods, Polo Sticks, Footballs, etc.
Sportswear: Track suits, Boxing, Cycling, Shorts, T-shirts, Wind breakers, Judo/Karate kits, Casual wear, Stockings, etc.
Leather Garments: Leather jackets, Leather gloves, Leather belts, etc.
Surgical Instruments: All kind of surgical instruments.
All of Sialkot manufacturing industry has very tough competition with China and if we will give China this easy and free trade route then most of Pakistan exporting industry will suffer. At the end Pakistan will suffer.
Do the people of Pakistan need this electricity with the cost of killing Export Manufacturers, Jobs and hard earned Foreign Exchange?
When Mr. President Bill Clinton made free trade deal with China, most of politicians didn't understand the long term economic effects, that it will hurt American Jobs and helped China the most. Now American are beginning to realize and trying to reverse that deal. America is a strong country. It can come back and make changes to help American economy but Pakistan's industry can't survive if this deal will go through.
Exporters of Pakistan should be very concerned and raise their voices before it's too late.