Amazingly and perhaps speaking the truth for the first time in 50 years since the war ended, Indian army has released advertisements which reveal that contrary to what they have been telling to ordinary Indians in the last fifty years, Indian army actually failed to take advantage of military weakness of its much smaller neighbor, Pakistan in the 65 war and was actually defeated!
A full-page advertisement published in major Hindi national dailies came out with major blunders in its text. For instance, the text mentioned the role of the 15th Infantry division during an attack near west of Ichhogil canal, saying that Indian Army responded to the Pakistan attack with fear (darkar muqabala kiya). The English version of the advertisement, published in leading national dailies were no better and mentioned the same thing in just a different language! (it's the truth folks)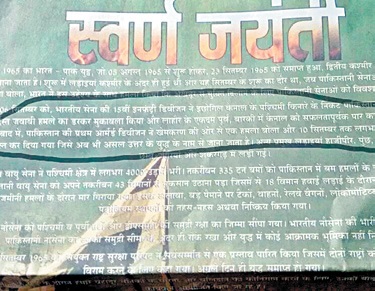 The advertisements, which were actually aimed to publicize glories and victories of the Indian Army, have virtually given credit to Pakistan.
The ads were part of PM Narendra Modi-led NDA government's most ambitious plan to celebrate the golden jubilee of the 1965 Indo-Pak war, a historic battle which India believes it has never celebrated.
The problem is, there is nothing wrong with the advertisements. Their only problem is that they reveal the truth. Here are different accounts from different western journalists who observed the war closely in 1965:
"Pakistan has been able to gain complete command of the air by literally knocking the Indian planes out of the skies if they had not already run away. Indian pilots are inferior to Pakistan's pilots and Indian officer's leadership has been generally deplorable. India is being soundly beaten by a nation which is outnumbered by a four and half to one in population and three to one in size of armed forces".
This article originally appeared on The New Indian Express