Controversial Hollywood actress and singer Lindsay Lohan has been spotted carrying a Holy Quran while leaving the Duffield's children Center at the first day of her court ordered community service!
While rumors were already around that she might be getting closer to if not embracing Islam when earlier this year she posted a photo on Instagram on a prayer from Quran but it was never confirmed what she really meant by this. Was she converting or was she just posting!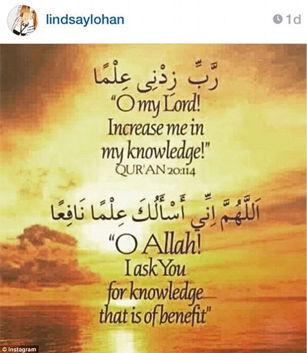 Photo Lindsay posted to instagram
And Lindsay is known to have experimented with various religions throughout her life anyway! Previously she looked into Kabbalah before moving onto scientology followed by a near-conversion to Judaism for the sake of her former girlfriend Samantha Ronson. So maybe carrying a Quran for a Hollywood actress like Lindsay Lohan was not as outlandish as it seems!
Though the reports of Lindsay Lohan converting to Islam have not been cleared by any official authority or by Lindsay herself but the international media are getting very curious of her holding the Holy Quran. So let's not jump to the conclusion and wait for the official version of Lindsay Lohan and maybe even pray to God to guide her to the right path!