In the picture above, a little girl can be seen sitting in a trunk of a car holding a toy car near F-10 Markaz which is apparently more valuable than the girl's life.

This picture shows the mentality and perspective of how people look at minorities and treating them like they're beneath them, how it is fair that this child gets to risk her life for this toy so the child of the owner gets to play with it. The funny part is he is doing this for one of his kids and at the same time putting the little girl's life at risk. Imagine the hypocrisy to a whole new level. We are not saying that this girl should be treated with the same luxuries that a child of there is. All we are asking is that any employed child should be treated well and with respect. We have reported that the speed of the car was around 60 km/h, more or less and there were 4 adults seated in the car and they seemed to be well-educated people. Who cares if that ten-year-old is sitting in the trunk of a car which is extremely dangerous and she also has to hold onto a toy for the owner's child who is inside the air conditioned car and is safe whereas the little girl could fall out of the car onto the road. Child labor is punishable by law but as we know these laws are universally ignored in Pakistan. The person who captured this picture and witnessed the whole situation has few words to say "It's just heartbreaking. We are robbing our kids of their dignity and any hope for progress in the future. Nothing can justify child labor and surely nothing can justify this sort of treatment".
Almost a year ago we witnessed a so-called Molvi with his family who didn't allow the employed girl to have food with them and made her sit opposite to them while they were enjoying their meal in Centaurus mall Islamabad.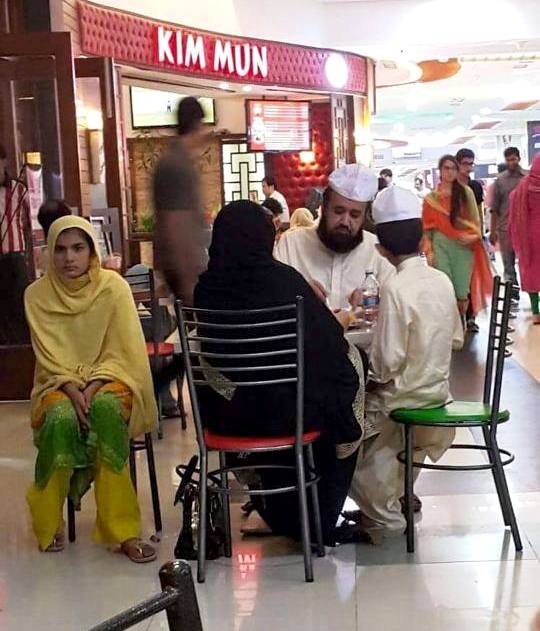 We Pakistani's often talking about following Islam but forget how to treat people with equality and affection, such good acts are taught to a child at a very young age that we are supposed to be nice with everyone regardless of their race, religion, class. It is despairing to see such grown-ups doing such shameless act. We will get to see a lot of different people. Bad and good is everywhere, just because some group of people is bad doesn't mean we as a nation have failed our community, we shouldn't lose hope and as a nation, we should work for the betterment for all of us and that is how we will succeed and make a drastic change.