The traffic cop, 29-year-old Long Tao, had to finally call for backup as runners started to mob him to take photos with him instead of running towards finish line.
In recent years China has emerged as the new trend setting center of the world, for from GDP growth to record exports, it has set standards that others find almost impossible to break.
Surprisingly this time Chinese have set a new trend never experienced before. The annual marathon in China was halted this year because instead of running towards the finish line, women abandoned the race and started to run after a handsome traffic cop.
The cop who looks a lot like the Chinese actor Wallace Chung, became such a huge distraction that some women "forgot all about the race". Nobody really paid attention to the marathon after that.
According to sources "some Kenyan runner was the winner" but all the publicity ended up being shed on the beautiful cop Long Tao. Long was good-natured enough to pose with runners.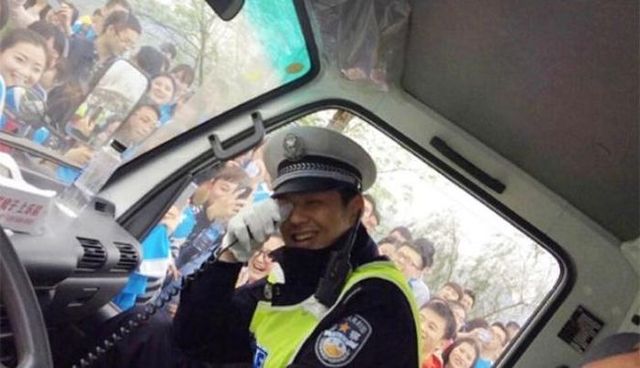 And the organizers actually blamed Long Tao for spoiling the race. In a bid to restore some order, Long was taken off-duty and replaced by a "less handsome" colleague. We wonder what the newly-wed cop's wife thinks of all the fuss.
Thanks to this Chinese guy Long Tao maybe good looking men will no longer find  place in police in the future!