PARIS: At least 160 people are reported to have killed in a terrorist attack at the Bataclan concert hall in central Paris.
According to initial reports, at least 160 people have been killed in a series of terror attacks inside a Paris concert hall where attackers seized hostages. Concert hall was just 200 meter far away from Charlie Hebdo that was attacked by terrorist in January 2015. At least six attacks were done by the terrorist across the French capital and hostage-taking was one of them.
This is what happened at each location (courtesy: The New York Times)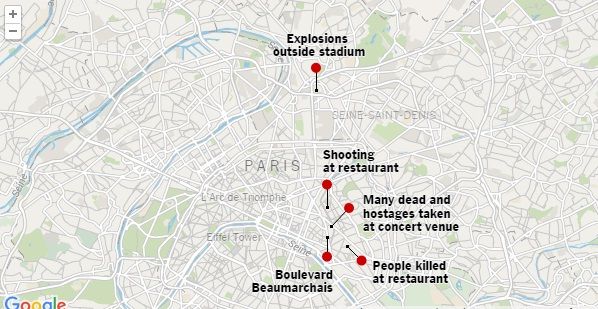 160 people killed in at least six attacks across the French capital. Thirty five killed in a concert, 11 were killed in a Paris restaurant in 10th arrondissement, 100 were killed after hostages are taken at hotel, dozens were killed in the Bataclan music venue. French President Francois Hollande declared a state of emergency and announced to close its border.
US President Barack Obama called the attacks an outrageous attempt to terrorize innocent civilians.