Recently, I've been noticing one thing: People in Pakistan hate the naked truth. They only want to hear "Positive News" even if it is false, misleading and anything but the truth.
Basically, according to this lot, anything negative is untrue because in Pakistan nothing can be wrong. "It's just propaganda", they would say.
So when a Pakistani writes an article critical of the state's policy regarding security issues or foreign policy, he is branded as a "traitor".
In fact, even if one talks about the tourism industry not ready for a tourist influx, you'll get bombarded with messages of hate and the nationalists will have no shame in calling you anti-Pakistan or their pet word "Ghaddar".
Being a cricket fan, I analyzed Babar Azam's short career as an ODI batsman and wrote a blog about it. So, I found that he has not quite the batsman we think he is and that his batting style has limitations.
Hence, I critiqued his batting approach, citing examples from the matches he has played.
But the people didn't want to hear about it.
Just today, I googled "Positive news about Pakistan" and this is what came up: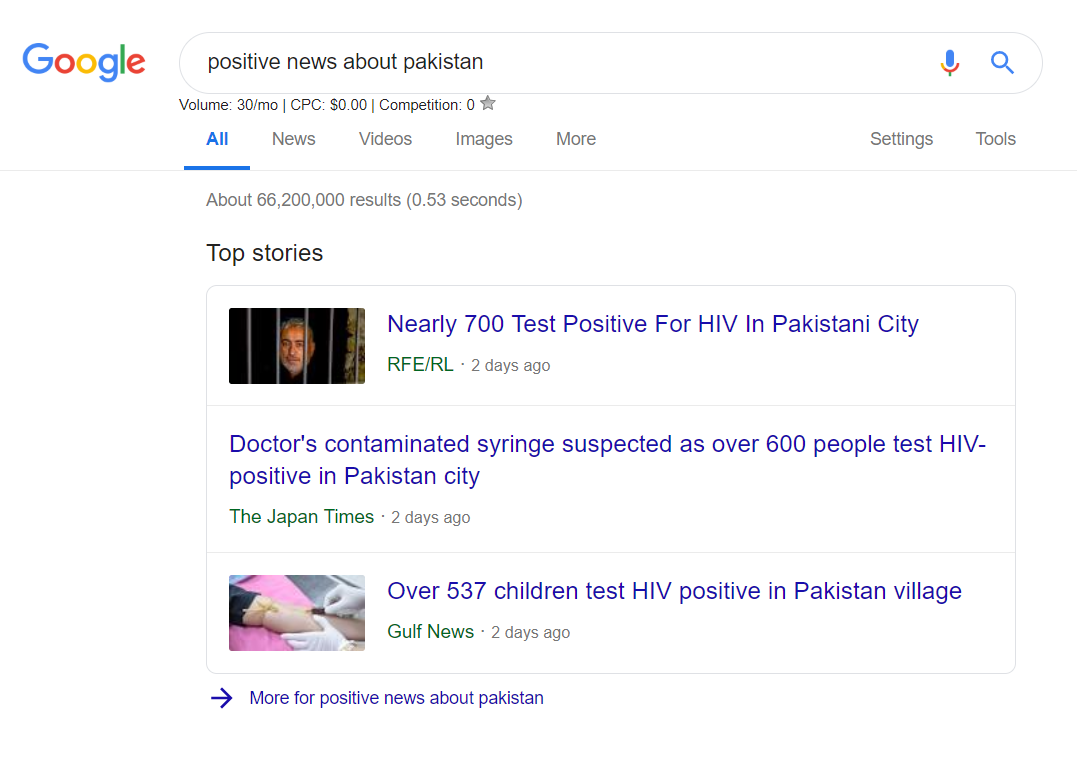 Having said that, here is my list of positive things about Pakistan:
Pakistan is one of the most peaceful countries in the world.
The number of religious zealots in the land of pure is ZERO. Yes, none.
Minorities (Christians, Hindus, and Ahmadis) enjoy complete freedom.
Khadim Rizvi is our Stephen Hawking.
Our justice system is the best in the world.
There is freedom for everyone, including terrorist and ISIS supporter Molvi Abdul Aziz.
Humanitarian Orya Maqbool Jan can have his own show on private television.
Pakistan is famous for terrorism tolerance, freedom of speech, and peacefulness.
We won the 1992 Cricket World Cup.
Babar Azam is on par with Kohli.
We won the 1992 Cricket World Cup.
Pakistan is one of the most literate countries in the world.
We won the 1992 Cricket World Cup.
Cricket is not the only sport we invest in. Sometimes we invest in other sports like cricket and cricket.
And lastly, our prime minister is handsome, according to Mehr Tarar.