There are certain notable highlights of childhood, which when stumbled across by adults randomly, take them back in time in an instant, making them realize how much time has really passed over all these years. The generation hailing from the 90s sure is experiencing a whole lot of changes, or replacements, of what they associate with entertainment. Here is a collection of some of the top childhood attractions which remained exclusive to that phase in time.

Quice
That scintillatingly green tinge of ice cream soda flavoured syrup can never be found in any beverage, ever. Pour it over falooda or kheer, blend it with a glass of water or milk to quench in some much needed glucose after a cricket match in the street with the lads, freeze some of it into icicles to be served as ice lollies with tooth picks……. the options were endless. The best bit would be that it would be sweet enough with just a spoonful for a glass, without any hassle to keep on mixing as in the case of sugar. In a matter of days or about a week, that bottle would vanish off the shelf, only to be replaced by a new one within a while.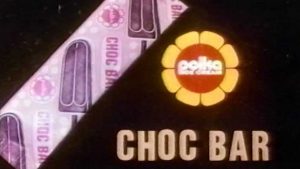 Polka Panda Ice-cream
Kids were mostly made to buy ice cream in cups so that they could take their time in finishing it off, instead of being in a hurry not to risk it melting off to stain the clothes. The Polka Panda changed all that, with the 'Panda head' ice cream sticking at one end of the ice-cream stick being small in size than the conventional ice-creams-on-sticks. Plus the two-flavour combination options would let one savour two flavours in the same ice cream, a rare feature in retail ice creams those days. The Polka Panda was such a favourite that it was even difficult to choose one from the two flavour combinations, namely chocolate-vanilla, & strawberry vanilla.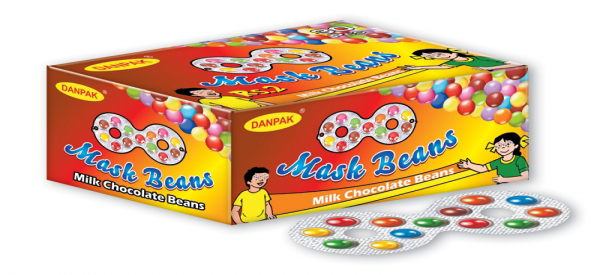 B.P Chocolate beans mask
One strip of rubber band and two eyeholes punched through 'spectacles' would indeed take a child to imagine himself as zorro, out to be a menace for the rest of the household. Those chocolate beans would be a whole new game too, popping them out from the backside of the mask and shuffling them from hand to hand to count the number of 'bunties' of each primary colour, until the colours off their shells would start to melt off on the palms and fingers. There was a limited edition, Ninja Turtle version of the mask too, which would be way larger in size to cover the entire face instead of covering the areas around the eyes.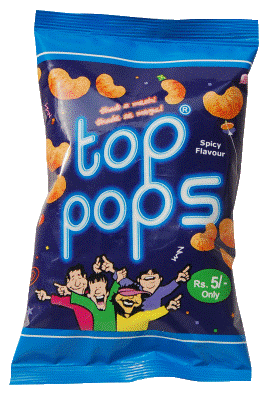 Top Pops
Forget Slanty; forget Lays, Doritos, or even Kurlees! For just Rs.2 you could get a whole packet of this snack to share amongst your peers apart from having a whole lot for yourself. The one who would have the last share would have the added advantage of scrapping off the masala at the bottom, licking it off the fingers as if one's just had one of those chicky meals off from KFC. Leaving the top pops on the tongue to be dissolved by enzymes would be another matter. Plus its trademark blue theme was branded for school, going well with most of the uniforms schools had in those simple times. Miniature blow-horn whistles would be another add-on attraction to look forward to for purchasing each packet. The sizes were perfectly timed for those 15 minute breaks at midday as well, including the time you'd take for waiting in the line at the canteen amongst all the other kids at school.