At the risk of isolating the few people who tend to live under rocks — and really, you should be going to therapy for such horrible experiences — I can say with pretty accurate certainty that we've all had two life-changing realizations in our lives:
1) The Little Mermaid is one of the best movies of all time, and 2) why the eff aren't we all living under the sea by now?
It's 2016! Where are the futuristic Atlantis worlds with tunnels moving from place to place? Where I can hit the gym and see a giant squid move past my view. Who needs television, I've got the best view in the land!
While these days may still be a bit far off (although I sincerely hope they're coming),
There are a few places in the world that are a couple of steps ahead of the curve. They give us a look into this wonderful water world, all over a scrumptious meal.
India has received its first underwater restaurant in Ahmedabad, courtesy of businessman Bharat Bhatt.
The Real Poseidon 32-seater restaurant lies about 20-feet below water, where guests can gaze at more than 4,000 types of fish. And they say they've received their first, so could more be in the works?
But India's not the only one.
You may be shocked to learn that there's more than one restaurant down in the depths. Each is more gorgeous than the last, and every one promising a delicious meal of, well, fish. On the one hand, what else would you order? On the other, isn't it kind of creepy eating flounder while Nemo watches?
Regardless of how I feel towards these fish,
I've added a few new places to my bucket list. And I've started in Maldives. The island is gorgeous on its own, with huts hovering over the water where you can spend the night and watch the fish into the wee hours of the morning.
But at Ithaa Undersea Restaurant, guests are treated to an unforgettable experience surrounded by a 360 degree view of fishies after they're done tanning up above. So yeah, an island could have one of these easily. But the next place is incredible!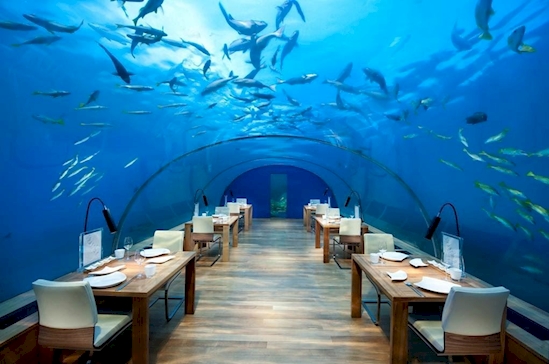 Taking a trip a bit west,
We come to the heart of civilization in Eilat, Israel. Visitors to the Red Sea Star Underwater Restaurant, Bar and Observatory are offered not just food, but an experience. I mean it's in the name: the place is an observatory. You're not expected to eat and get out. Stay a while! See the shark pool, feed a stingray, admire the sea turtles. You'll have some moments you'll never forget.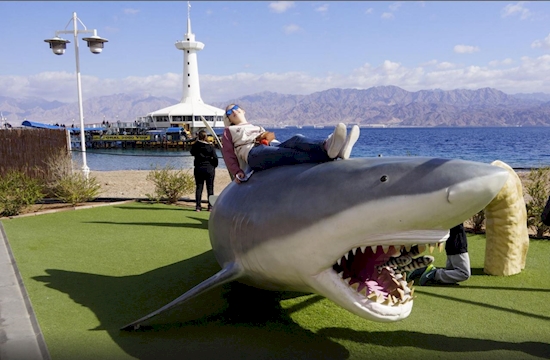 It's not exclusive to warm weather!
I mean, check out Sweden! I've always wanted to go, but NEVER thought I could go under the sea, or to be more accurate, a lake. Not only can you eat 10 feet under water, you can STAY there overnight at the Utter Inn! Basically, you'll walk away saying, "I want to live here."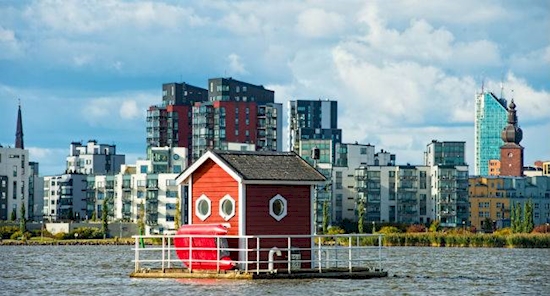 Sweden is old school, but this place is straight from the future.
Sweden actually has TWO places you can stay! In Stockholm, guests can have a bit more of a futuristic visit compared to the Utter Inn when they visit Guinness Deep-Sea Bar. If James Bond retired and decided to open up a bar, this would be the place. I'll get straight to it: it's in a freaking submarine. How have you not booked a plane ticket yet?!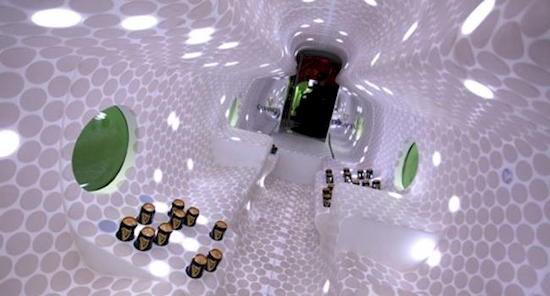 But honestly, I kind of like the heat.
As tempted as I am to first visit these northern climates, I love the warmer weather. So the Poseidon Undersea Resorts in Fiji are more up my alley. And the word "resort" is in the name. Try to stop me from spending my entire vacation underwater, snorkeling, scuba diving, admiring the fish and coming back at night to enjoy some of the fish I just saw. With no reason to come up for air, people wouldn't even know I was there! And I love it. I dying to visit here, but the next one is on an entirely different continent I want to visit!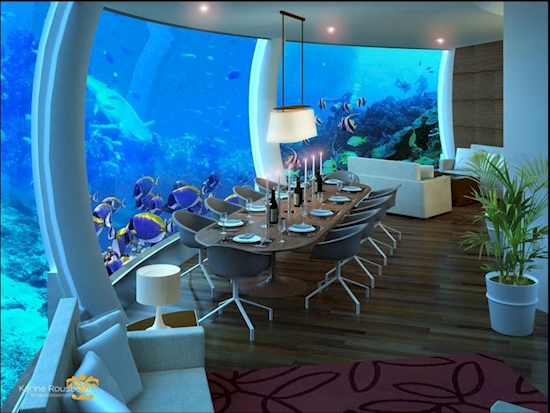 Get down to the tip… of Africa!
While people may not rave as much about the food, they certainly love the experience! I think they can't taste the food because their mouths are gaping open staring out at the sharks going by. Oh, and did I mention the Cargo Hold Restaurant is inside a SHIPWRECK?! Yeah. I know. Go there.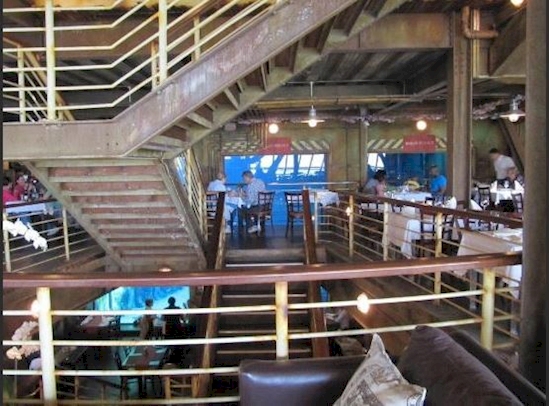 Maldives has more than one?
Yep! There's more than one way to eat underwater, and if that's the case you need to go to Maldives. Not only is Subsix a place to chow down, it's a place to get down! The underwater restaurant also has the bragging rights to be the first underwater club. Done.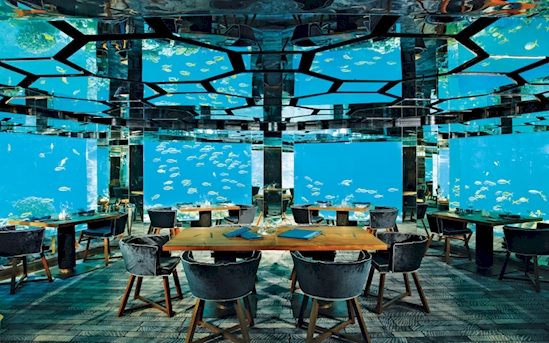 Not all these places come easy.
If you want to chill out at Jules' Undersea Lodge in Florida, you're going to have to work for it. The Lodge and all its offerings require guests to get there by scuba diving. It's the only way. So make sure you get your PADI certificate before planning your visit after Disney World.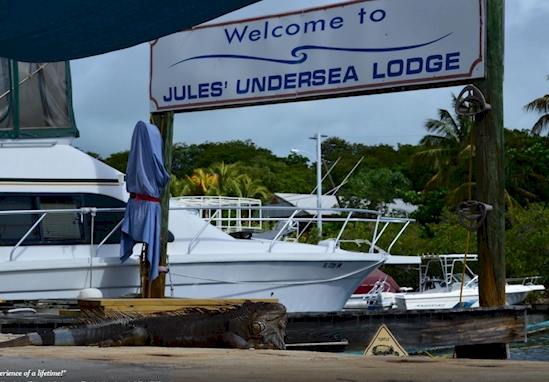 So after all that,
If "Under the Sea" isn't running through your head on repeat, I don't think it ever will. Or you're a rock person. Please, get out from under your rock. And when you do, make your real-world debut at one of these ridiculous restaurants. That should help you make up for lost time.