Islamabad, Pakistan: The capital of Pakistan Islamabad is under the security control of Pakistan Army as 111 (triple one) Brigade has taken over the all important installations including the Parliament House.
Federal government and district administration practically allowed over 20,000 people to enter Islamabad who gathered in Rawalpindi Liaqat Bagh early Sunday to observe Chelum (a religious service that is mostly done after 38 to 40 days of death of a Bralvi Muslim) of Mumtaz Qadri who was hanged to death just 29 days ago on the orders of the Supreme Court of Pakistan. Observing Chelum of Qadri after 29 days of his hanging instead of waiting for 40 days was a mystery and can be explained only by his followers or family members.
Deceased Mumtaz Qadri according to Supreme Court decision killed a former Punjab Governor Salman Taseer when Qadri was performing his duty as the guard of murdered governor.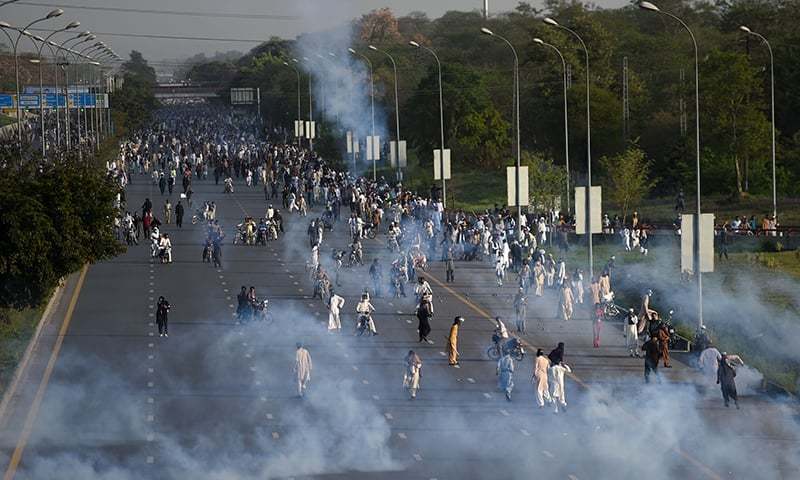 Followers of Qadri marched towards Islamabad and at last entered Red Zone on Sunday evening. Red Zone is an area where the Parliament House, Prime Minister House, Presidency, Supreme Court of Pakistan and Diplomatic Enclave are situated. The Federal government called in the army to control the law and order situation when protesters burnt down one metro station and two containers those was placed to stop protesters to enter Red Zone. Protesters removed containers and blockades on the way to the Red zone and had clashes with Rangers who are deployed for the security of the Red Zone when police used tear gas to disperse protestors.
Now Pakistan Army is guarding Parliament and other constitutional buildings in Red Zone.
There is a question that why district administration of Islamabad allowed protestors to enter into the Islamabad Capital Territory (ICT)?
Liberal elements are asking that could civil society members be allowed to enter Red Zone when they were protesting Maulana Abdul Aziz sometime back who was allegedly involved in supporting terrorist outfits like Daish and Tehrik-i-Taliban Pakistan (TTP)? Maulana Abdul Aziz a symbol of radicalism in Pakistan nowadays though he refutes his links and his support for terrorist outfits though media has his recorded statements in favour of radicalism.
On the other hand, the capital of province of Punjab Lahore is mourning as over 70 persons, mostly Christians have been killed in a suicide bomb blast that took place in Gulshan-e-Iqbal Park Allama Iqbal Town Lahore where Christian families were gathered to celebrate Easter on Sunday evening.
Some circles claim that Lahore incident and Islamabad incidents are linked.
Some circles claim that Lahore terrorism incident is linked with arrest of Indian intelligence agency RAW operator in Balochistan.
Neo Television and other media sources claim that one Ahmed Yousaf from Muzafaghar was suicide bomber who had been studying in a religious school of Deoband school of thought. However this information is yet to be confirmed by government officially.
Some Intelligence sources claim that Lahore blast is linked with killing of four terrorists of Lashkar-i-Jhangvi (LeJ) in Lodhran on Saturday and arrest of some high profile terrorists linked to LeJ and TTP from Town Ship Lahore and Punjab government were given information on Saturday by intelligence agencies about expected incident of terrorism in Lahore.
Two incidents are not linked with each other but both incidents have one similar impact and this contact is chaos in Pakistan for tonight and for many days to come.